Pedal Forward to Success in Business and in Life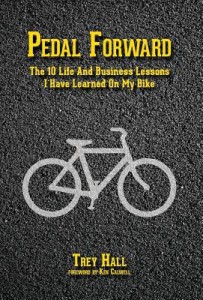 Pedal Forward: The 10 Life and Business Lessons I have Learned On My Bike is a short inspirational book anyone in the business world and of special interest if you're a cyclist.
Trey Hall is a long-time marketing veteran whose resume reads like a who's who of the restaurant industry. He is also an avid amateur cyclist. Trey's story opens in Wichita, Kansas, in the early 90's, when he and his riding partner where struck by car while on a bike ride. Suffering injuries that can only be classed as devastating, Trey and his partner eventually achieved a full recovery and continue to ride today.
One of the underlying themes of this book is "get back on and keep riding." Trey Hall is where he is today because he didn't give up after an accident that left him with multiple fractures and soft-tissue injuries, head-to-toe road rash and months of hospitalization and rehab. But the focus of this book, isn't the accident. It's what Trey learned afterward, through life and cycling that has inspired this volume.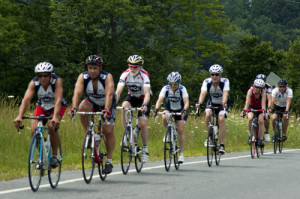 While each of the lessons is given in cycling terms and illustrated through cycling analogies, they definitely are not limited to the world of wheels. The lessons Trey learned on his bike range from communication to teamwork to values and more. One lesson "Never be Content with Easy," really resonated with me. I think about the times I have fallen short of my objective because I opted for easy instead of stepping up to the challenge. In this chapter, he relates the story of an ambitious ride through the Rockies. Being a Coloradan, I have driven that route many times. I cannot imagine traveling it by bicycle, especially in the time frame he planned to ride it in. The benefits of pushing on and not taking the easy way are well worth it as evidenced by Trey's biking adventures.
My favorite lesson is the last one: Find the Joy. I truly believe that life is all about finding the joy. And, as Trey relates finding joy through serving and through serving happily, I find myself in complete agreement. As we find the joy in life, not through pursuing our own interests, but in giving and serving and helping others to find joy, it all becomes so much easier and so much more worthwhile. To quote:
"Whether it's work or our life's journeys, we need to find joy on our ride. No matter how tough things can be, we need to learn to find some joy in the moment, even if that joy is knowing that the moment will soon be over. We need to search out something in each day, in each ride, to cherish. We need to find ways to serve, even if it is sitting up and creating a better draft for a friend who is suffering on the ride. Find ways to serve and joy will follow."
I can't help but believe Pedal Forward will bring much joy in Trey Hall's life. And if you will read and apply the principles found in it, it can bring much joy to your life as well.
Buy the Book
This post contains affiliate links, which means I may earn some money if you click on one and make a purchase. It will not cost you any extra, and I will be grateful for your support. Read the full disclosure here.
Buy Pedal Forward: The 10 Life and Business Lessons I have Learned on My Bike at Amazon.com