History, Mysteries, Secrets and Adventure — Avatar Battle Book Review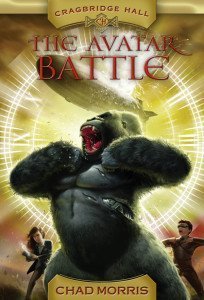 History, mysteries, secrets and adventure. What's not to love about a book that has all that? If you're looking for something fun for your kids to read this spring, I have the perfect book for you. Well, there are really two books—so far. The Cragbridge Hall series by author Chad Morris is just the ticket for an escape into adventure.
Since these books are really juvenile/teen fiction (but that doesn't mean you won't enjoy them, too—they've already been passed around to both adults and teens at my house), I enlisted the help of one of my teenage bookworms to review Chad Morris' latest offering, The Avatar Battle.
Here's what Miss Bookworm had to say about reading "The Avatar Battle":
Having survived their first semester at Cragbridge Hall in the year 2074, twins Abby and Derick are now getting to learn about creating robots and virtual worlds (they have learned a lot about robots since 2014). They are admitted into a secret circle of people called the Council of Keys who have the power to travel back in time and that's when strange things start happening.
One of the cool things about being a student at Cragbridge Hall is that students don't just get to study history, they actually have the ability to watch it happen. That sure would make learning about history a lot more interesting. In this book, Charles Muns, who is the nemesis of Abby and Derick's Grandpa Cragbridge (yes, there is a connection there) is trying to steal all the keys from the Council members so he can change history. Abby and Derick have to stop Muns before he steals their keys, too.
As the twins battle to help their grandfather protect Cragbridge—and protect history—they learn many lessons about themselves and about life. I even learned a few things about history reading this book. They have lots of adventures and there are enough twists and turns along the way that it held my attention. The end was a surprise—so I won't share that with you—you'll have to read it yourself to find out what happens. Let's just say I am sure hoping there will be more Cragbridge Hall books.
Buy the Book
This post contains affiliate links, which means I may earn some money if you click on one and make a purchase. It will not cost you any extra, and I will be grateful for your support. Read the full disclosure here.
You can buy The Avatar Battle at Amazon.com
And the bookworm says this video trailer is pretty cool, too.