7 Best Halloween Books for a Spooky Holiday
Happy October! 'Tis the month of all things spooky and scary. And fun!
You can bring some of that spooky, scary, fun Halloween spirit into your home with these best Halloween books from my Halloween collection. Here are seven of my Halloween favorites.
From the traditional stories of Sleepy Hollow to fun with the Peanuts gang, and the Berenstain bears to the eerie darkness of Ray Bradbury, there's something in this collection for just about every Halloween book lover.
I read some of these stories as a child (and watched the Great Pumpkin every year on TV), and read some to my own children. All these stories are a much beloved part of our holiday library. And if you don't already have a family holiday library of your own, these are the best Halloween books to get you started. To purchase any of these books, click on the title or the links in the post.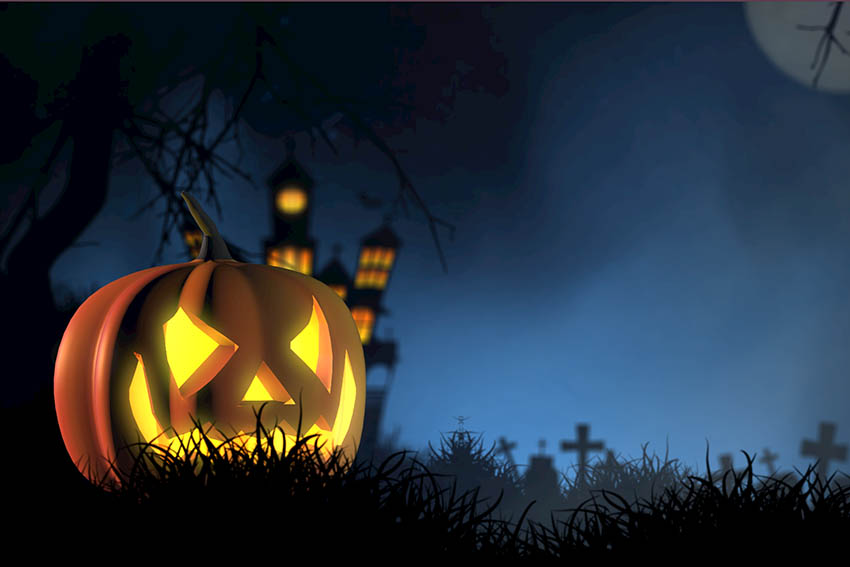 The Best Halloween Books to Add to Your Holiday Library
This post contains affiliate links, which means I may earn some money if you click on one and make a purchase. It will not cost you any extra, and I will be grateful for your support. Read the full disclosure here.
Count down the days to Halloween with this this adorable collection of thirty-one stories featuring the Peanuts gang—one for every day in October!

This collection of Peanuts stories has everything Halloween—costumes, parties, trick or treating, and the Great Pumpkin! There's a story for each day in October to make the time before the best day of the year pass more quickly. It's the perfect gift for Peanuts and Halloween fans!
Buy Countdown to Halloween at Amazon.com
---
---
Written by Jean Marzollo, Illustrated by Walter Wick
The New York Times bestseller I Spy Spooky Night is back with a brand-new design and trim size. Get ready to I Spy in a haunted house with lots of creepy riddles to solve!
Kids of all ages will enjoy a fun and spooky exploration as a trickster skeleton beckons readers from room to room to I Spy for mice, spiders, candles, bats, jack-o'-lanterns, bones, and so much more! From its rickety gate to its cobwebbed attic, this haunted house contains thirteen spooky and spectacular photographs. There is a spooky graveyard, a mysterious laboratory, a garden of ghoulies — each page has rhyming puzzles with eerie objects to find. Are you ready to start your spooky search?
Buy I Spy Spooky Night at Amazon.com
---
---
Come celebrate Halloween in Bear Country with this classic picture book from Stan and Jan Berenstain. Brother and Sister can't wait to go trick-or-treating with all their friends, but when someone in the group encourages the kids to play a trick, things don't go as planned. All little cubs can celebrate Halloween and learn about how to be a good friend and neighbor—and the bonus stickers makes this book the perfect gift for Fall!
Buy The Berenstain Bears Trick or Treat at Amazon.com
---
---
Written by Charles M. Schulz, Adapted by Kara McMahon, Illustrated by Scott Jeralds
With this most beloved of all fun Halloween stories, Spooky tricks and hilarious treats abound in this Peanuts Classic. Can we possibly have a list of the best Halloween books without including this Charlie Brown classic?

It's Halloween night, which means costumes, trick-or-treating, bobbing for apples…and waiting for the Great Pumpkin. Linus is certain that the Great Pumpkin will rise out of the pumpkin patch to bring toys to all the children of the world. Could this be the year that it finally happens?

Find out in this stunning storybook.
Buy It's the Great Pumpkin, Charlie Brown at Amazon.com
---
---
by Roald Dahl
No one weaves a story tale quite like Roald Dahl, one of my favorite childhood authors (I read everything he wrote). This Roald Dahl classic is not a fairy tale. This is a story about real witches.

Grandmamma loves to talk about witches. Real witches are the most dangerous of all living creatures on earth. There's nothing they hate so much as children, and they work all kinds of terrifying spells to get rid of them. Her grandson listens closely to Grandmamma's stories—but nothing can prepare him for the day he comes face-to-face with The Grand High Witch herself!
---
---
Written by Ray Bradbury, Illustrated by Joseph Mugnaini
Ray Bradbury is a master of spooky fantasy that isn't too spooky for most middle-grade readers. Make your Halloween story time a little spookier this year as Ray Bradbury takes readers on a riveting trip through space and time to discover the true origins of Halloween.

Join the shadowy Carapace Clavicle Moundshroud as he takes eight trick-or-treaters on an unforgettable journey to find their missing friend, Pip. Travel through space and time, from the tombs of ancient Egypt to the gargoyles of Notre-Dame Cathedral, all the way to the cemeteries of Mexico on el Día de Los Muertos, the Day of the Dead. Is Pip still alive? And if so, can his friends save him from a ghastly fate before it's too late?

"If you want to know what Halloween is, or if you simply want an eerie adventure, take this mystery history trip. You couldn't ask for better than master fantasizer Ray Bradbury." –The Boston Globe
Buy The Halloween Tree at Amazon.com
---
---
by Ray Bradbury
For those who still dream and remember, for those yet to experience the hypnotic power of its dark poetry, step inside. The show is about to begin. Cooger & Dark's Pandemonium Shadow Show has come to Green Town, Illinois, to destroy every life touched by its strange and sinister mystery. The carnival rolls in sometime after midnight, ushering in Halloween a week early. A calliope's shrill siren song beckons to all with a seductive promise of dreams and youth regained. Two boys will discover the secret of its smoke, mazes, and mirrors; two friends who will soon know all too well the heavy cost of wishes…and the stuff of nightmares.

Few novels have endured in the heart and memory as has Ray Bradbury's unparalleled literary masterpiece Something Wicked This Way Comes. Scary and suspenseful, it is a timeless classic in the American canon.
Buy Something Wicked This Way Comes at Amazon.com
---
---
Written by Washington Irving, Illustrated by Andrew Kress Joanis
The Legend of Sleepy Hollow and Rip Van Winkle are perhaps the original Halloween tales. No collection of best Halloween books could possibly be complete without these two delightful, spooky stories were written in the early 1800s by celebrated author Washington Irving.

They vividly portray a Hudson River Valley region of New York still transitioning from colony to state, heavily influenced by the early Dutch settlers and the lingering after-effects of the Revolutionary War.

When Icabod Crane arrives in Sleepy Hollow, a small hamlet on the Hudson River, he soon finds himself entranced by the (rich) local beauty, Katrina Van Tassel. Icabod has a rival in town tough guy Brom Bones, and Icabod's fears of ghosts, goblins, and other creatures of the netherworld are nothing compared to the terrifying story of the town legend… the Headless Horseman!

Looking to escape from his family and work, Rip Van Winkle heads out for a walk. Upon meeting some raucous old Dutchmen, he joins in their fun, later awakening to find himself in a changed world.

Both stories feature original illustrations by Andrew Kress Joanis.
Buy The Legend of Sleepy Hollow and Rip Van Winkle at Amazon.com
---
Do you have a favorite Halloween story I should add to my collection of best Halloween books?
Share your best Halloween books and stories in the comments below.