Celebrating a Christ-Centered Easter–Book Review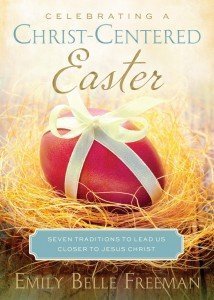 Easter is just around the corner. And visions of bunnies and eggs and jelly beans are filling the stores and the airwaves. While those symbols and treats of Easter are lots of fun and have their place in an Easter celebration, they should be secondary to our true Easter celebration.
Easter is about the crucifixion and resurrection of Jesus Christ. Sadly, He is all too often relegated to a distant second to the Easter herd of chocolate bunnies.
This latest book by Emily Belle Freeman, Celebrating a Christ-Centered Easter sets out to change that. Like her similarly titled Christmas book, Emily teaches the purpose and meaning of Easter through the stories of six Biblical figures significant to the last days of the Savior's life, as well as the Savior himself. After recounting their story and their relationship to Christ, each mini-biography is followed by a tradition. For example, the story of Lazarus "reminds us of the unexpected hope that will spring forth from the darkest moments of our lives."
The tradition portion of each chapter includes a hymn, the scripture references for the story and some study questions, and what Emily calls "the Moment of Celebration," an activity to reinforce the principle.
The lessons are written in plain language, easily understood by all ages from little children to adults. They include references to both the King James Version and the New Inspired Version of the Bible. The lessons can be completed in no particular order and in whatever time frame works for your family.
While the language in this book is simple, its potential for learning is anything but. This book is an excellent tool for teaching your family about Christ's last days in mortality, his crucifixion and resurrection. Implementing and following the lessons in this book can allow you to bring an Easter filled with the spirit of Christ into your home.
Jelly beans and chocolate bunnies are no match for the sweetness of Christ's sacrifice and gift for us. While they certainly are a fun addition to any Easter celebration and they have their place, Celebrating a Christ-Centered Easter places the focus of our Easter celebration right where it belongs: on Jesus Christ.
Celebrating a Christ-Centered Easter by Emily Belle Freeman is available through Deseret Book in either eBook or paperback form.
About the author: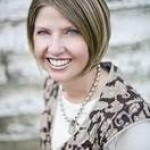 EMILY BELLE FREEMAN is a coach's wife, a mother to four children and a few others who have found refuge in her home, author of several bestselling books, and sought-after inspirational speaker. She coauthors a popular blog putting religious teaching into practice: www.multiplygoodness.com.
A copy of this book was provided to me for review and my opinions are always just mine.