Kiss of the Spindle #Review
Kiss of the Spindle Summary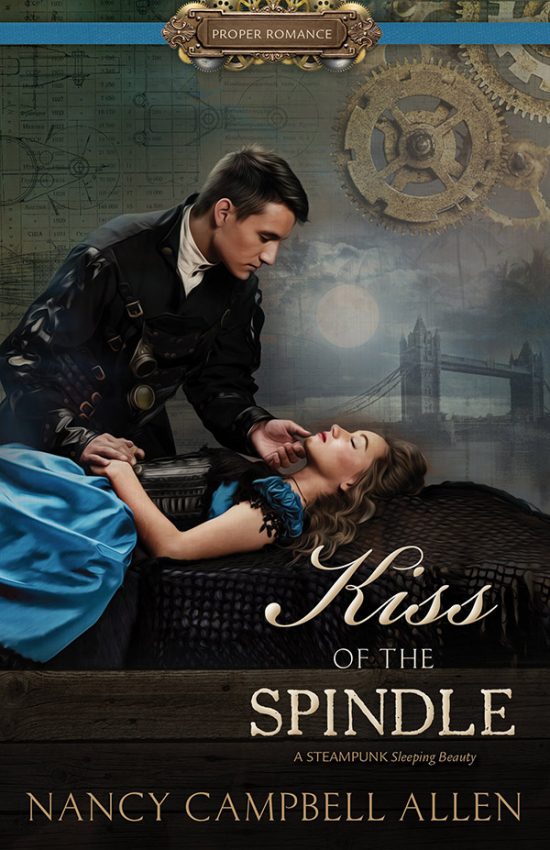 Doctor Isla Cooper is cursed. Literally. Each night, at the stroke of midnight she falls into a death-like sleep from which she cannot be awakened for six hours. To make it worse, the curse has an expiration date–after a year, she will fall asleep forever. And the year is almost up.
In a desperate attempt to find Malette–the witch who cursed her–Isla blackmails her way onto Daniel Pickett's private airship bound for the Caribbean, only to discover she's traveling with three illegal shapeshifters and the despicable Nigel Crowe, a government official determined to hunt down and exterminate every shapeshifter in England. Isla and Daniel must work together to keep the identities of the shapeshifters hidden while coming to terms with their own hidden secrets, and their blossoming attraction to each other.
Filled with suspense, intrigue, and plenty of romance, Kiss of the Spindle is steampunk Sleeping Beauty story. It is a race against the clock as Isla and Daniel try to hunt down the elusive Malette before Isla's death-like sleep becomes permanent.
Kiss of the Spindle Review
Kiss of the Spindle is another fun Steampunk novel by Proper Romance author Nancy Campbell Allen. This time around it's a "sleeping beauty" story with some interesting twists. Ms. Allen writes strong and interesting female characters, and Isla is no exception. This story does not include a large cast of characters, and while there are definitely leading and supporting characters, none are shadows or "incomplete."
The story contains enough twists and turns to keep you guessing as to its direction. While it wasn't difficult for me to guess the ending, I did not figure out the path it would take to get there.
I found this book to be a perfect summer read. It was engaging and entertaining, with a little humor, a little intrigue, a little mystery, relatable characters, and a romance.
Buy the Book
This post contains affiliate links, which means I may earn some money if you click on one and make a purchase. It will not cost you any extra, and I will be grateful for your support. Read the full disclosure here.
You can buy Kiss of the Spindle by Nancy Campbell Allen at Amazon.com
You can buy Kiss of the Spindle by Nancy Campbell Allen at DeseretBook.com