Using Room Decor to Teach Kids Gratitude
Train up a child in the way he should go and when he is old he will not depart from it.  
Proverbs 22:6
Gems in the scriptures such as this verse give parents guidance (and hope) when raising kids, but finding time to teach a child all he should know can be overwhelming. So many principles to teach…..so little time before they are grown and gone.
Gratitude is one such principle we want our children to embrace. Some kids are thankful by nature, but many kids (and adults, too) need reminders to feel and show gratitude. Holidays such as Thanksgiving, Christmas, and Easter help focus thoughts and energies on graditude…..but what about the rest of the year?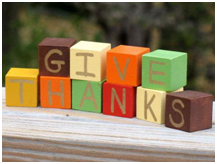 Getting kids to say "thank you" and show genuine gratitude takes consistent parental guidance. Have you ever thought of using room décor to teach kids gratitude? Why not get extra help through visual cues scattered throughout the house? Here are a few décor ideas to try:
Provide a set of blocks for younger kids to play with that spell "gratitude" or "give thanks". After playtime, store on the shelf or dresser with the message intact.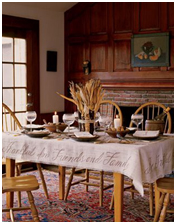 Surround the family dinner table with a cloth bearing a message of thankfulness for blessings, family, and friends. Can you see little ones that are just learning to read circling the table memorizing and reciting the words?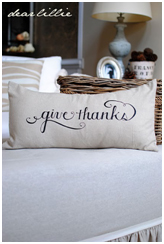 Instead of patterned pillows, leave a daily message of gratitude on a chair or sofa. Your teens will see the words each time they pick up the "give thanks" pillow before flopping down on the sofa. Just a gentle (and soft) reminder without words spoken.
Get the family involved with "thanks for my blessings" activities. Provide a chalkboard for writing messages, indoor mailbox for letters to the family, or a place to clip messages that can be saved (and reread later, revealing how all have grown). Use weekly during family home evening or on special days to encourage sharing feelings of gratitude. Sharing gratitude can be quite contagious!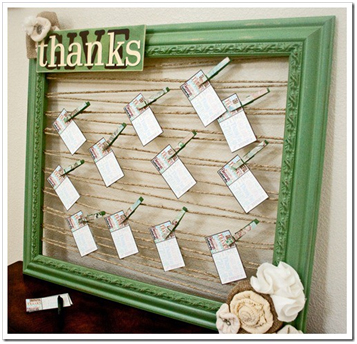 Now that you have seen a few "gratitude" photos, how have your feelings changed? Thinking about and feeling more grateful? Visual reminders do work…and they work with kids too.
Over the years as visions become thoughts, gratitude begins to penetrate the soul and actions follow. Kids will quietly learn an important principle, bringing greater happiness into their lives and joy to those whose hearts they will touch.
 (For more on gratitude and holiday décor with kids, see the November posts on KidSpace Stuff Blog.)
Watch for next month's post: Baby's Christmas Tree…from Top to Bottom.
=====================
Jeanette Simpson, ASID is an Interior Designer and owner of KidSpace Interiors where she specializes in commercial and residential design of children's spaces. A graduate of Brigham Young University, an author, and furniture designer, Jeanette is mother of six, stepmother of five, and grandmother of 17. Read more of her articles on her KidSpace Stuff blog.
Photo credits:
Be Grateful:
http://tatertotsandjello.com/2011/10/thanksgiving-project-with-the-new-silhouette-cameo-and-giveaway.html
Blocks:
http://crafts.slides.kaboose.com/322-thanksgiving-crafts/5
Tablecloth:
http://itswrittenonthewalls.blogspot.com/2011/09/101-fall-craft-ideas-that-you-can.html
Pillow:
http://dearlillieblog.blogspot.com/2011/09/little-ruler-project-and-our-give.html
Give Thanks board:
http://tatertotsandjello.com/2010/10/guest-project-make-thanksgiving.html