Enjoy 100+ "Scrumptious" Recipes in this Gorgeous New Cookbook
Scrumptious Summary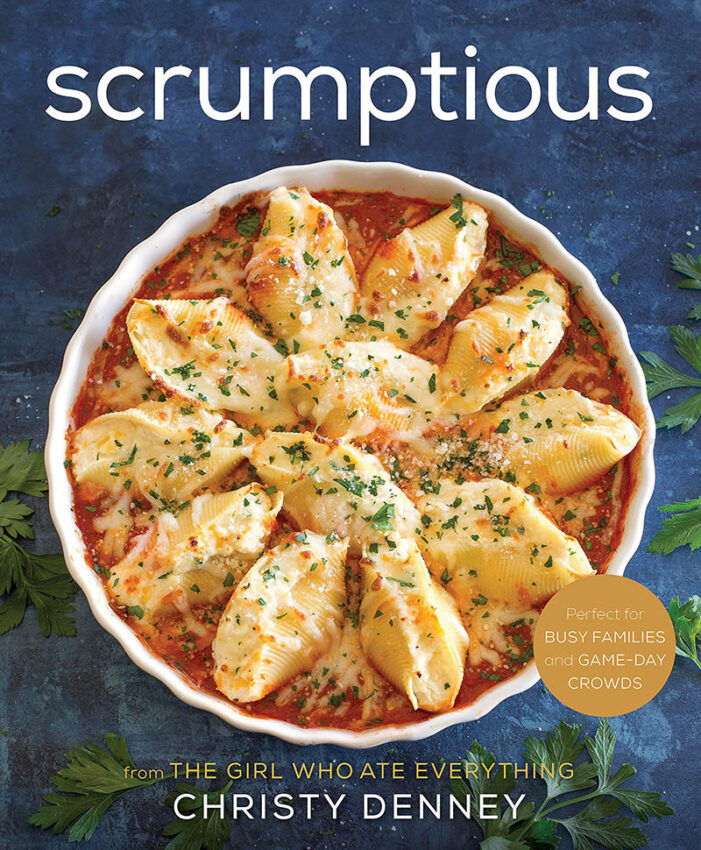 If you can't be left alone with warm cinnamon rolls or a fresh batch of chocolate chip cookies. Or if you enjoy creating photos of your culinary creations almost as much as eating them, Christy Denney, the blogger known as "The Girl Who Ate Everything," has the perfect cookbook for you.
Scrumptious from the Girl Who Ate Everything combines Christy's expert professional experience as a recipe writer for both Betty Crocker and General Mills with her life experience as a mother of five and one of ten siblings. Christy knows food often is the centerpiece of family life. And cooking can be a major undertaking, requiring creativity, planning, practice, and purpose.
Christy showcases 101 of her favorite recipes, each beautifully photographed using natural light from a window in her home. And each recipe includes detailed instructions for prep time along with helpful tips.
From unforgettable Sunday brunches with Banana Muffins, to easy weeknight one-pan dinners like One-Pan Chicken Enchilada Skillet, to low-carb meals like Egg Roll in a Bowl, to rolling out the works for a game-day crowd—including her NFL-husband's favorites like Jalapeno Popper Bread and Garlic Parmesan Wings—this is the family-friendly cookbook for anyone looking to plan quick-and-easy meals and wants a way to bring people together, feasting on food which can only be described as scrumptious.
Scrumptious Review
Does anyone else get hungry reading cookbooks? No? Just me. I'm ok with that, especially when it's a cookbook as beautiful as Scrumptious, by Christy Denney, also known as The Girl Who Ate Everything.
This cookbook is not only a visual feast, with mouth-watering photography to accompany every recipe, but will help you create literal feasts for your family and friends. From One-Pan Dinners, and Feeding a Crowd, to Low-Carb favorites—and let's not forget Something Sweet—there are recipes for every set of tastebuds here.
As a wonderful bonus, I found no recipes that contained ingredients not readily available at my favorite grocery stores. Some of the low-carb recipes do ask for low-carb sweeteners or low-sugar products, but even those are ones I have purchased at major grocery stores.
Whether you're cooking for your family, planning a get-together, or just a cook who enjoys beautiful cookbooks full of scrumptious recipes, you'll want to add Scrumptious to your cookbook library. Or purchase it for one of your favorite cooks. They'll love you so much for it, they may even whip up a few tasty recipes for you. Maybe you should bookmark a few of your favorites for them, just in case.
This cookbook promises to be a staple in our kitchen. And that is no mean feat at my house, where I have more than 100 cookbooks in my collection. Did I remember to mention the clearly written recipes with easy-to-follow directions? And the gorgeous, mouth-watering photography? This cookbook has both–for every recipe.
And just so you know, Butter-Swim Biscuits are on the menu at my house tonight.
About the Author
Christy Denney is the author of the popular food blog "The Girl Who Ate Everything." It is filled with a wide-variety of tried-and-true recipes. Her test kitchen includes her five children and her husband, who played in the NFL with the Miami Dolphins. Christy worked for General Mills as a writer and recipe developer. And she spent seven years in the Betty Crocker Food-Styling Kitchens. In addition, she played the viola for ten years so music is a big part of her life. Thus, she can usually be found in the kitchen with the tunes cranking.
Buy the Book
This post contains affiliate links, which means I may earn some money if you click on one and make a purchase. It will not cost you any extra, and I will be grateful for your support. Read the full disclosure here.
You can buy Scrumptious by Christy Denney at Amazon.com
You can buy Scrumptious by Christy Denney at DeseretBook.com