Yummy, Yummy in your Tummy! Hot, Homemade Pretzels!
The weather has turned cold and gray and that means it's time for a little something to warm our hearts and our tummies.  So I decided to make some pretzels because I knew it would make the girls happy to come home to these yummy little treats.  Besides, pretzels have no fat and almost no sugar so I consider them a healthy snack.  Yes, I know they have the evil white flour, but that's life.  You can try whole wheat flour if you want, but I make no guarantees about anything there.  The recipe is at the bottom of the page.
Pretzels are also amazingly easy.  I lack the coordination and the patience to roll and twist the ropes, so I roll out my pretzel dough with a rolling pin and cut it with a donut cutter.  That way it makes cute little round pretzels–just the right size for my spatula–and we even cook up the pretzel "holes".
I also double this recipe when I make it.  I double pretty much everything I make.  I figure it isn't any more work to make a double batch and I only have to clean up once.
So, we start by warming up the milk in the microwave and mixing together all the dry ingredients, which is everything else in the recipe.  See how easy that is.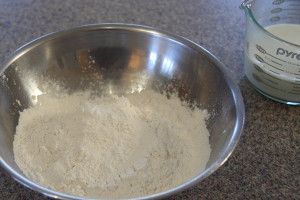 You can either mix it with an electric mixer or mix it in a bowl with a spoon and knead it for a few minutes.  I'm rather partial to the kneading, gives me a little workout and dough is great for getting rid of stress and frustrations.  Then it has to rise for about an hour.  Thankfully, it was laundry day today, so I was able to speed up the process a bit by setting the bowl on top of the dryer (it's really cold today–leaving it on the kitchen counter would have taken forever).
So after it rises–isn't it pretty?–you can either cut the dough into 6 pieces (or 12, if you were smart and doubled the recipe) or you can do like I do and roll it out with the rolling pin and cut it into circles–you could cut your dough into other shapes as well.  I just happen to like circles.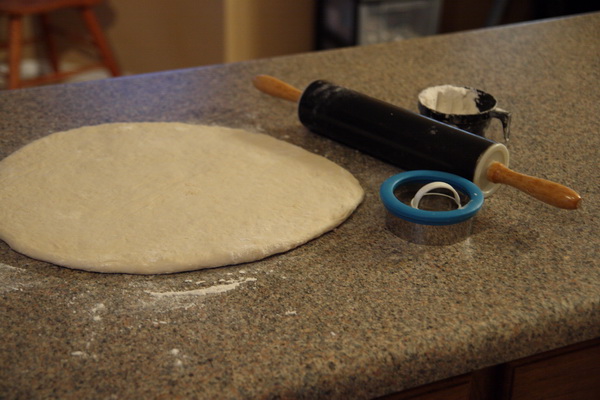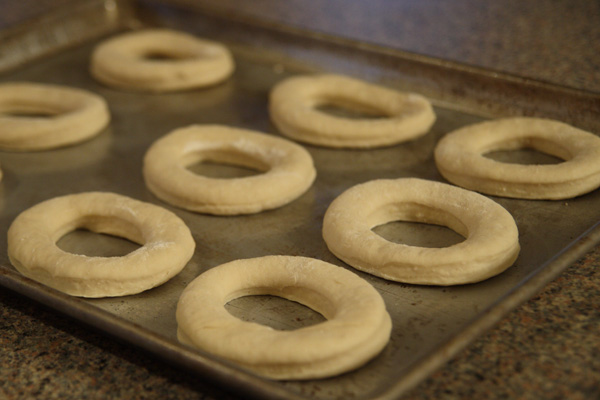 Pretzels
Makes 6 large pretzels
1 teaspoon yeast

1 tablespoon malt powder or brown sugar

2-3 cups all-purpose unbleached or bread flour

1 teaspoon salt

1 cup warm milk (approximately 110 degrees, which is 1 minute in my microwave)

Kosher Salt
Combine all of the ingredients in a bowl and mix together until it forms a ball. I start with 2 cups of the flour and mix it together until it's well-combined, then add more flour until it forms a nice ball that isn't too sticky that I can knead by hand.
You can either use an electric mixer (heavy duty) to blend  the dough for about5 minutes or remove it from the bowl and knead it by hand for 5 to 10 minutes until the dough begins to get smooth and satiny.  I prefer kneading the dough.
Place the ball of dough to a clean, greased bowl, cover with plastic wrap, and set it aside to rise until it has doubled in size, approximately an hour.
Preheat the oven to 425 degrees while you make the pretzels.
This is the part where I roll it out with a rolling pin on a lightly floured surface.  I roll my dough until it's just under ½" thick and then cut into circles with a donut cutter or other round cutter.
If you want to make traditional twisted pretzels, do this part:  Cut the dough into 6 pieces. Roll each one into a short log, cover with a towel, and let the dough relax for 5 to 10 minutes. After it has relaxed you should be able to roll it out and stretch again fairly easily. Roll and stretch again until they are about 15 inches long and about as big around as your  index finger). They do rise up a bit during baking, so this is not too thin.  Twist into a pretzel shape.
Next you boil the pretzels—you can skip this, but it does make them taste better.  And you don't really "boil" them.   Bring a pot of water with 2 tbsp of baking soda to just below boiling. Dunk each of the pretzels into the boiling water for 5 seconds, then scoop them out with a spatula and let them drain a few seconds before placing them onto a lightly greased baking sheet and sprinkling  with Kosher salt or other toppings (I'm a salt girl, myself).
Bake for about 15 minutes or until golden brown at 425.  Remove from pan and eat immediately