We Are All "Swimming in a Sea of Stars" #Review
Publisher's Summary
A single kindness can save a life.

Journal entry: Heading to school. I know what everyone will say. There goes the girl who tried to kill herself.

Addison is no stranger to feeling stressed, insecure, and sad. Her therapist recommended she keep a journal to help her understand those feelings better, which she really needs today. It's her first day back to school, several weeks after she survived her suicide attempt. She knows there are rumors about why she did it: A lousy home life? Bullying? Heartbreak? None of them are true, but it doesn't matter because Addison still feels like she's drowning. She still holds secrets she's not ready to share.

During the school day, Addison encounters four other students struggling with their own secrets:

Booker is anxious about seeing Addison. They were sort of a couple until he tried to kiss her. She fled and then tried to end her life. Those two things couldn't be related, could they?

Celia feels trapped by her mother's abusive boyfriend. She can guess why Addison did what she did.

Damion is TikTok-famous and thinks befriending Addison could boost his followers. But what no one knows is he needs the world to remember him since his sick mom doesn't anymore.

Avery is considered a loner and doesn't know Addison, but they have neighboring lockers. With Avery's older brother in jail for dealing drugs, Avery is desperate for meaningful human connection.

Swimming in a Sea of Stars is a poignant and gripping novel about how we're all interconnected, like the stars in the night sky that form constellations and map out the universe, and if even one star goes missing, the effect is profound.
Swimming in a Sea of Stars Review
Julie Wright's newest book is one every parent of teens, or adult who works with teens, needs to read. And more importantly, read and talk about it with your teens. I don't mean that you should just read it and then have a discussion. Use this book as a jumping off point for regular check-ins and casual conversations with the teens in your life.
It took me a bit to really follow the story in this book. While it is primarily a book about Addison and her return to school and the social world of teens following a suicide attempt, it is also very much about Avery, Booker, Celia, and Damion, who are classmates of Addison. And it is also about their circles, and what it is to move in the world of adolescence.
As I read, I was very much reminded of one of my key philosophies in life, which is that we never know someone's whole story; we don't know what's happening behind the public person, so to speak. As a result, we need to be mindful that there are challenges, circumstances, and difficulties we can't see, and treat everyone with the compassion we would like in return.
I'm not always great at it, but I try.
As we move through these teens' stories we begin to see not only how they intertwine, but how those stories inform and affect their daily lives and decisions. And then we begin to understand their fears, their motivations, and their actions.
As someone who has been working with teens in various roles since I was barely out of my teens, I could really relate to this story.
This book deals with difficult and uncomfortable topics of suicide, abuse, cancer, and mental health. I recommend it for teens, their parents, and anyone who spends time with teens.
This post contains affiliate links, which means I may earn some money if you click on one and make a purchase. It will not cost you any extra, and I will be grateful for your support. Read the full disclosure here.
Get the Book
Buy Swimming in a Sea of Stars by Julie Wright on Amazon here.
About the Author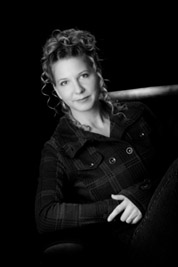 Julie Wright was born in Salt Lake City, Utah. She's lived in LA, Boston, and the literal middle of nowhere (don't ask). She wrote her first book when she was 15. She's gone on to write 25 novels and co-author three. Julie is a two-time winner of the Whitney Award for best romance with her books Cross My Heart and Lies Jane Austen Told Me and is a Crown Heart recipient. Her book Death Thieves was a Whitney finalist. She has one husband, three kids, a grandbaby, a dog, and some houseplants (depending on attrition). She loves writing, reading, traveling, hiking, snorkeling, playing with her family on the beach, and watching her husband make dinner. Learn more about Julie Wright on her website.
Find more of Julie Wright's books here.
I received a copy of this book in exchange for my honest review and opinion.