Table Talk Topics Spark Family Togetherness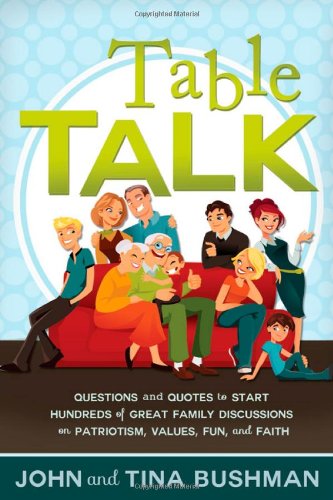 Do you eat dinner together as a family at the table?
Families who eat together tend to be stronger families. Studies show that families who regularly have dinner together have teens who get better grades, are less likely to use drugs or alcohol and have better family communication with less stress.
Family dinners don't have to be big and fancy. If you aren't already doing it, start with once or twice a week. Turn off the TV, leave the cell phones in the other room and gather around the dining room table. Whether it's as simple as takeout pizza and salad or as fancy as a traditional Sunday dinner, the important part is being together.
But what do you talk about? You don't want family dinner to be lecture time, you want it to be a sharing time where everyone can freely share thoughts and ideas. While my family never seems to be at a loss for words, getting the conversational ball rolling can be harder for families who aren't in the habit.
But don't worry. There is a simple solution.
Table Talk by John and Tina Bushman is a little bitty book packed full of questions and quotes to start lively family discussions. The questions range from spiritual to philosophical to just fun. Along with the 200 questions and quotes there are tips for keeping the conversation flowing and positive and information to help the reader understand how family dinner time can strengthen families.
We tested Table Talk at Sunday dinner this week. Even though our family is rarely at a loss for conversational topics, my kids each wanted to have a turn to choose a question from the book. It was one of the liveliest and most entertaining dinners we've had in a long time and they asked if we could use it again next Sunday.
Here are a couple of my kids' most discussed questions:
What role does our country have with foreign policy besides protecting its own borders and economic interests?
What is the worst vacation experience you ever had?
What indoor games did you enjoy growing up?
I also shared my copy with a friend who has six children, all younger than my teenagers. She was so impressed with the questions and format of the book that she copied the information so she could go home and order it for her family.
The book is a great resource not only for dinnertime, but for car trips, family outings and any other time you need some quick ideas to liven up the conversation.
Buy the Book
This post contains affiliate links, which means I may earn some money if you click on one and make a purchase. It will not cost you any extra, and I will be grateful for your support. Read the full disclosure here.