May I See Your Library Card, Please?
This week is National Library Week.
I love the library. I've always loved the library. It's like my second home. I have current library cards from three different library systems and will probably soon add a fourth. We live in Aurora, so I have an Aurora library card. I used to live in Rio Rancho and I still have that card (I use it for online research, but it will expire soon so I have to enjoy it while I can). I also have a Denver Public Library card. They have online research resources that we don't have in Aurora–and if they have a book I want, I don't have to wait for an inter-library loan. Soon, I'll stop by the Arapahoe County Library and get a card there, too, so I can access their research and books directly.
I have always had a library card. I can remember as a little girl, early in elementary school, getting to go to the El Cajon Library every week. We could check out five books at a time. It was never enough because I would be finished reading and have to wait for my mom to take me again. I remember having the little cards in the books, where they stamped the due date. Now most books don't even have those little card pockets and check-out sheets. It's all bar codes and scanners. But that's ok. As long as I can get my books.
I love books. I love to read. I've always loved to read–ever since I read You Will Go to the Moon the summer before first grade. My mom likes to tell the story about how I got into trouble at the library because I refused to stay in my place in the children's room and was always trying to check out books from the adult section. The librarians kept telling her they were too hard for me, but my mom told them I could read anything I wanted.
Smart mom.
I tell my kids the same thing.
I really do still go to the library all the time–and it's even cooler now that I can search for books online. I can always request a book and have it sent to the branch near me, but most of the time I'm too impatient to wait, so I just go to that branch. Besides, I like hanging out at the library. I love to wander among the stacks and see what treasures of learning and entertainment might catch my eye.
One of the happiest days at our house is when they re-opened the branch library just across the street. It was closed in a city cost-cutting measure just before we moved here, but clearly that didn't sit well with the residents in this part of town–the next closest library is a 15-minute drive across town. So, the homeowners' associations got together and managed to convince the city to re-open the library (we'll skip all the ugly political wrangling).
Now we can walk to the library. The girls can go, even if I'm too busy. My kids love the library, too.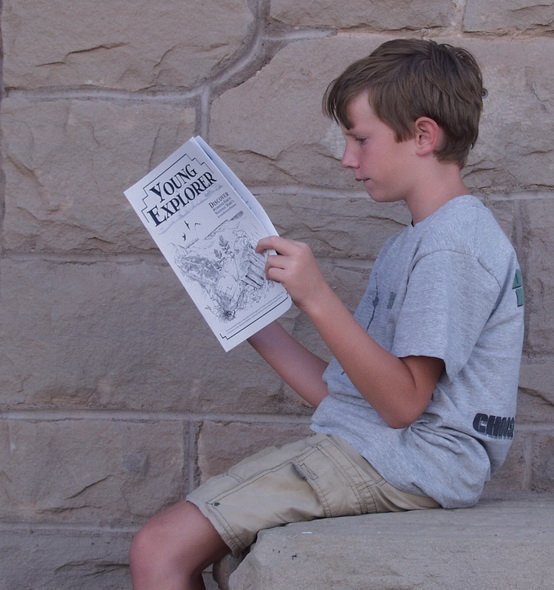 Libraries are such a blessing.  Free access to all that knowledge.  Have you ever really thought about it?  I read somewhere between three and five books a week.  If I had to pay for all those books, I'd be having to choose between eating and reading and, believe me, that's a tough call.
I have traveled around the world and even away to outer space. I've been to deepest Africa and the jungles of Peru. I've traveled the galaxy to worlds that don't even exist. And I don't even have a passport.
I've learned to cook, to sew, to garden, to remodel my house (ok, I had some help from HGTV on that one). I even learned photography at the public library.
I've met famous people, been inspired by their stories of courage and determination. Sometimes I've been disappointed by their bad choices.
I've listened to music of many cultures, been inspired by beautiful art.
And all because of the public library.
So, visit your library this week. Go buy a used book from the Friends of the Library Bookstore. If you're in my neck of the woods, you can find it here–and it's well worth the visit.
And while you're at the library soaking up all that free knowledge, be sure to thank a librarian. Because I'm sure they don't hear it often enough.
______________________________________________________
And in case you're wondering, I have four books out from the library this week and four holds to go pick up:
Out of Africa & Shadows on the Grass by Isak Dinesen  (I read this in college, but I'm ready for a re-read.)
Afghanistan to Zimbabwe:  Country Facts that Helped me win the National Geographic Bee by Andrew Wojtanik  (I'm a Jeopardy geek.  I LOVE trivia.)
How I Planned Your Wedding:  The all-true story of a Mother and Daughter Surviving the Happiest Day by Susan Wiggs and Elizabeth Wiggs Maas  (27 years as a wedding photographer make me a sucker for wedding stories–and this one sounds funny.)
A Colorado Winter.  Photography by John Fielder; essays by M. John Fayhee (I went to John Fielder's gallery a couple of weeks ago.  I LOVE his work.  Now I get to spend three weeks poring over it before I have to take the book back.)