A Heavenly Summer on the Pacific Coast Highway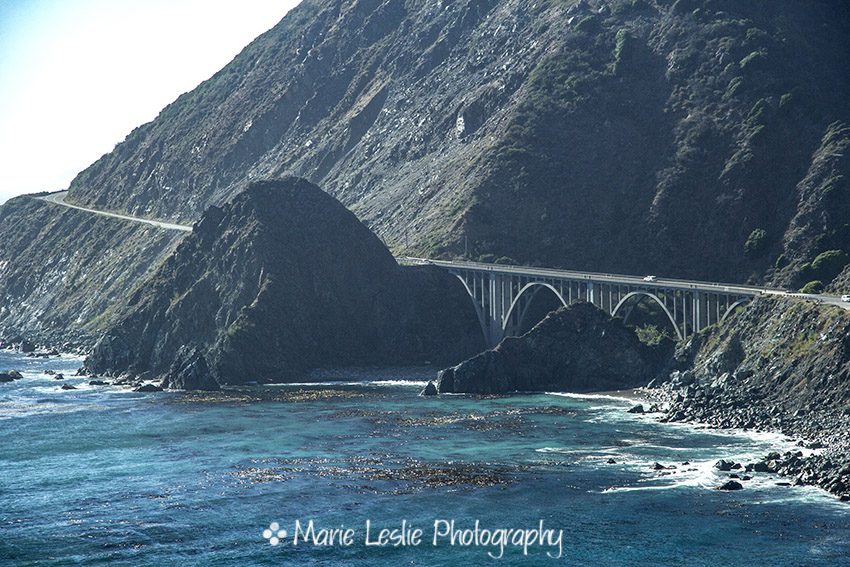 When my husband and I got married 34 years ago, we spent our honeymoon traveling California's Pacific Coast Highway from San Diego to the Russian River. We've always talked about a repeat journey, but somehow it just never happened.
Until this summer. Some unexpected family events allowed us some time away from work and other responsibilities, and took us back to California. As a result, we decided to take the scenic route home and retrace our honeymoon trip up the PCH.
This time, though, we got to make the trip in summer (we were married in January), and it was even more beautiful than our first trip.
By the way, Images with links in the captions (they're blue like this paragraph) are available for purchase at Marie Leslie Photography by clicking on either the caption or the image.
We started our trip in Ventura this time. We grew up in San Diego, and couldn't think of anything less fun than spending Sunday afternoon battling our way from San Diego through Malibu in the summer beach traffic. So we took the inland route up to stay in Ventura, giving ourselves a good Monday start away from LA traffic.
A Sunday evening walk along San Bonaventura Beach as the summer fog rolled in, gave us this beautiful view of the pier, and was the perfect end to a busy family weekend.
The next morning we headed north, keeping strictly to Highway 1, despite Google's best efforts to find us the shortest route to Monterey.
One of our favorite parts about roadtrips is being able to stop where we want and make random detours. And it didn't take long for us to find our first detour. Just north of Point Concepcion, the road turned inland and shortly we saw a sign for Jalama Beach, just 15 or so miles over the coastal range. We'd never been and it looked intriguing, so off we went, winding through some beautiful ranch land to the ocean.
Jalama Beach is a county beach with picnicking and camping available. We made note of the cabins overlooking the beach, perhaps for a future vacation. It was a delightful break. We walked a distance down the beach, enjoying the sun, sand and surf. And then we came upon a shipwreck!
It was quite the surprise. We ventured on to take a closer look. There were quite a few items scattered along the shore, including the sailboat's dinghy, shoes, and pieces of the boat.
Hubby wanted to venture out and explore the boat a bit, but the rising tide made that a bad idea, so we just wondered over it from shore.
One downside I'd forgotten about central California beaches was the tar. Despite our careful steps, we both managed to get a fair amount of tar on our feet. It doesn't scrape off well and it's annoying. And then Hubby remembered the Dawn dish soap commercials with the birds, and suggested we try that to get the tar off. It worked amazingly well. Apparently it's good for humans as well as wildlife.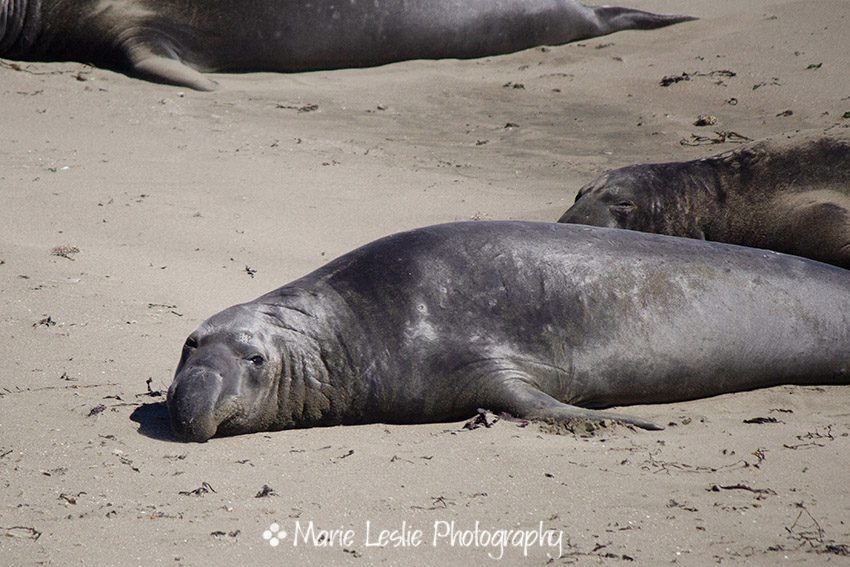 After Jalama Beach, it was back up the coast where we made many photo stops (big surprise, right?). One of our favorite stops was the Elephant Seal Sanctuary. In addition to many elephant seals snoozing on the beach, we found this awesome pair of elephant seals, who look like they are prepping for an appearance on America's Got Talent.
One of the great treats of our visit to the Elephant Seals was watching a pair of them spar. We spent some time watching them grab each other by the throat, wrestle and bark. An elephant seal bark sounds an awful lot like the belch of a teenage boy who has just guzzled a 2-liter bottle of soda. Just sayin'.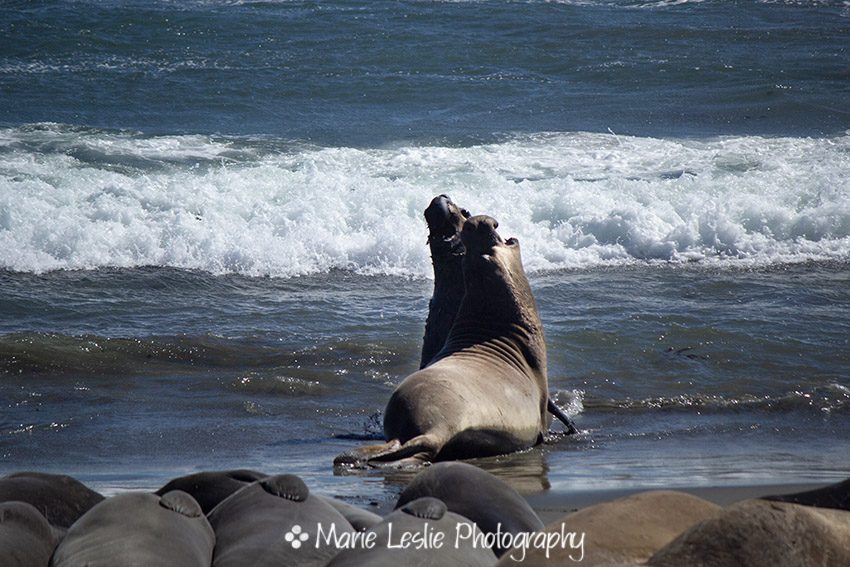 If you've ever traveled PCH, you know there is no end to the stunning views and varied scenery. Our afternoon was punctuated by many stops for hiking, exploring, sightseeing and photography. And time in the ocean.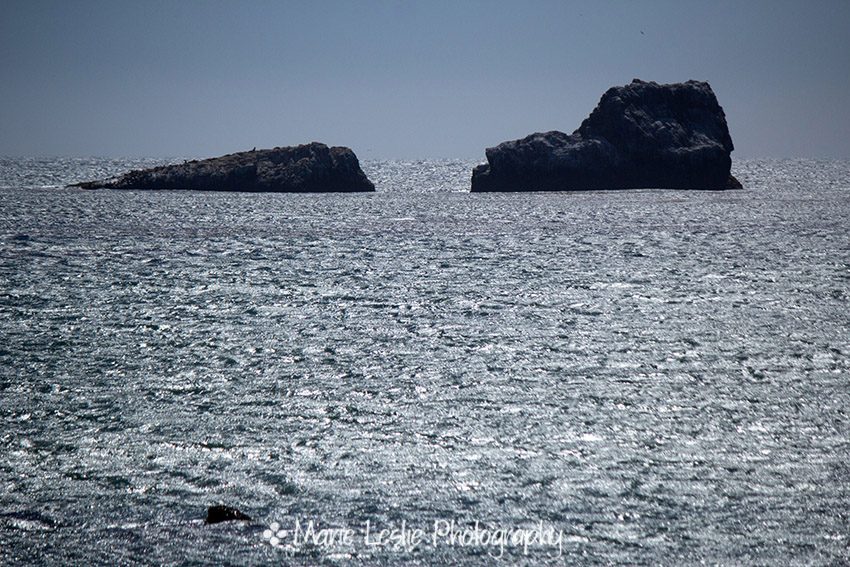 Many of our stops were to watch surfers, kitesurfers and windsurfers up and down the coast. If you've never seen these amazing athletes, they are incredible to watch.
And then we were in Big Sur. The beauty of this stretch of California coast is almost beyond my words. The rugged mountains that rise up from the sea, the landscape that alternates between forest and almost desert-like grasslands, and the amazing Pacific Coast Highway that winds along where ocean and mountains meet. And it's probably not a road for the faint of heart–or at least those who don't enjoy steep curves, and sharp drop-offs.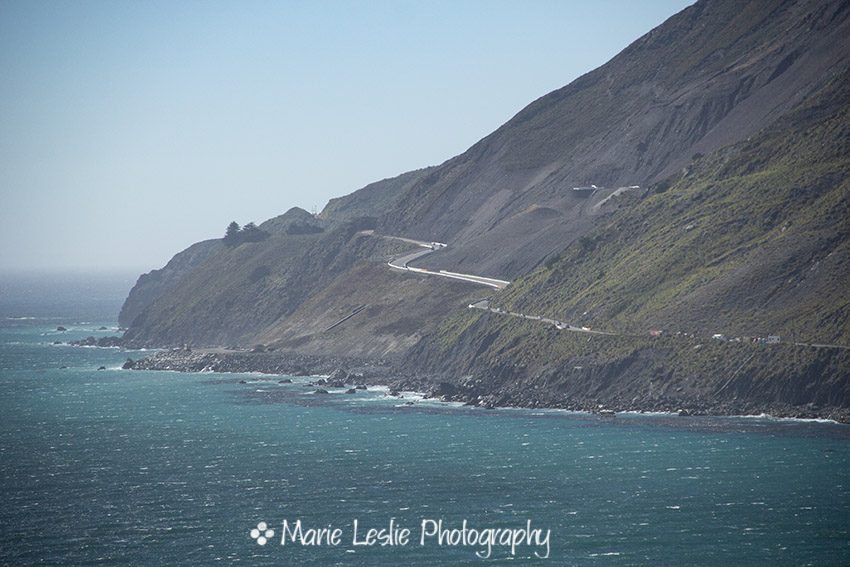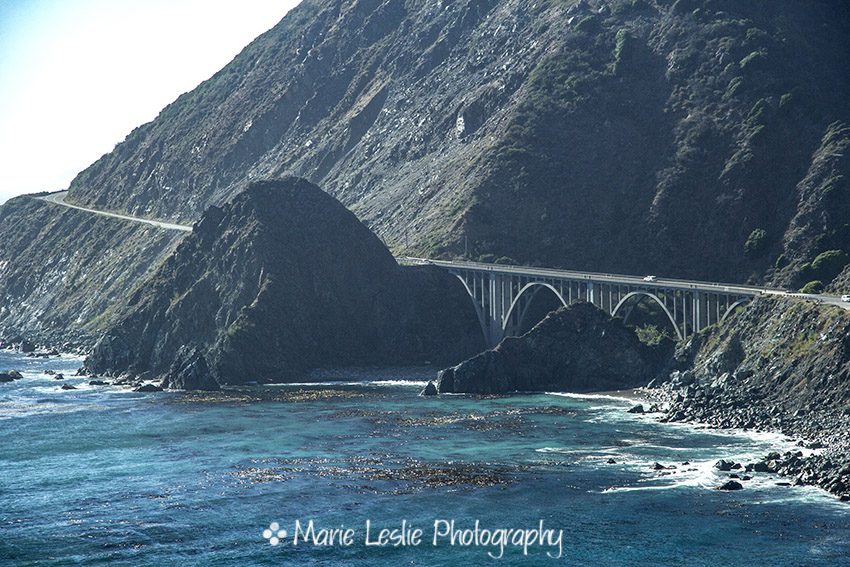 One of the highlights of our trip was dinner at Nepenthe, a Big Sur institution. I first ate at Nepenthe's on a trip up PCH with my uncle when I was in high school. Besides the amazing views, they had the best french fries I'd ever eaten. I hoped to bring my hubby here on our honeymoon, but it was closed the day we were in Big Sur.
We were fortunate this trip. Not only were they open, but we were seated right away at the dinner hour–at a table with a beautiful view of the Pacific Ocean. We dined on their famous Ambrosia Burgers (Instagram worthy, even) and their french fries were every bit as delicious as I remembered.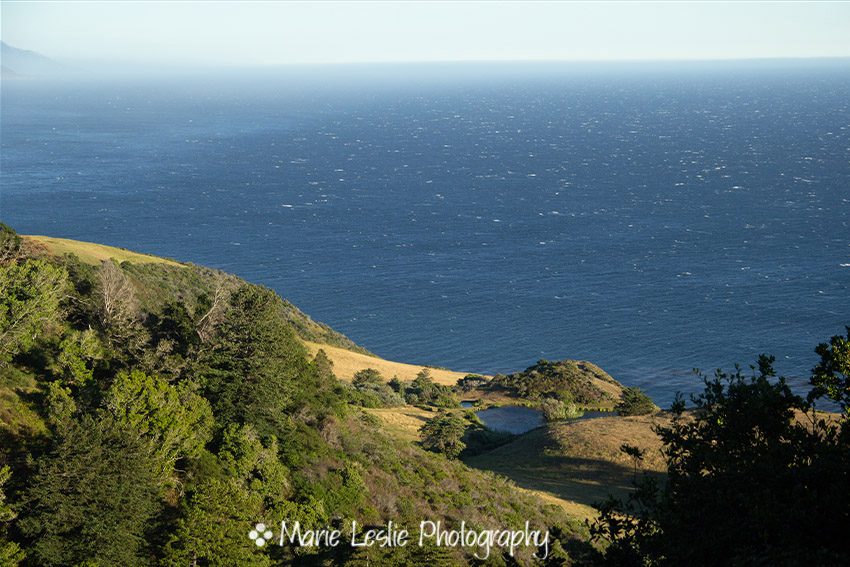 We left Nepenthe just in time to watch the sun set and for one last image of one of Big Sur's iconic bridges.
We took nearly 2500 photographs during our week-long trip, and though I deleted well over half, you'll see a few more posts with some of our favorite stops along the road.