Make-Ahead Breakfast Makes Mornings Easier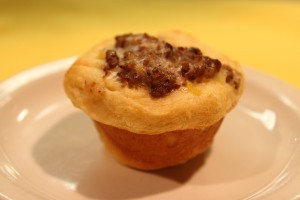 Breakfast at our house is a crazy time. With five people leaving in the mornings at four different times between 1:30 and 6:45 a.m., I am just not inclined to spend my morning cooking breakfast and then cleaning up the mess. I want my family to have a good breakfast–and a hot breakfast especially when it's cold out–so I've come up with a number of different make-ahead breakfast options, so they can heat and eat the breakfast of their choice.
I must confess that I did not invent this recipe. I have had it for many years and I do not know where it came from.  And, of course, like all of my recipes, I have tweaked it a bit from the original.
Easy Sausage Breakfast Muffins
Ingredients:
1/2 lb. pork sausage
1    tablespoon all-purpose flour
2/3 cup milk
2    eggs
1 tablespoon half-and-half (I actually just use milk)
1/8 teaspoon garlic powder
1    tablespoon butter
1 cup frozen shredded hash browns
1 8-count can Pillsbury Grands Homestyle Buttermilk Biscuits
Preparation Directions: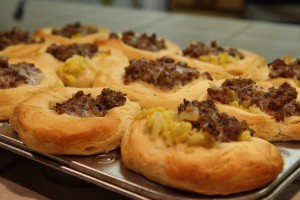 Heat oven to 375°F. In 10-inch nonstick skillet, cook sausage over medium heat, stirring frequently, until thoroughly cooked. Drain; return sausage to skillet. Stir flour into sausage. Over medium heat, gradually add milk, cooking and stirring until bubbly and thickened. Stir in salt and 1/4 teaspoon of the pepper. Remove from heat; set aside.
In small bowl, beat eggs, half-and-half, parsley flakes, garlic salt and remaining 1/4 teaspoon pepper with wire whisk until well blended; set aside.
In another 10-inch nonstick skillet, melt 1/2 tablespoon of the butter over medium-high heat. Stir in potatoes. Cook about 5 minutes, stirring frequently, until lightly browned and almost fork-tender. Reduce heat to medium-low; stir remaining 1/2 tablespoon butter into potatoes. Pour egg mixture over potatoes; cook, folding potatoes into egg mixture, just until firm and moist. Remove from heat; set aside.
Separate dough into 8 biscuits; place each biscuit in greased muffin cup. Firmly press dough in bottom and up side of each cup, forming 1/2-inch rim. Spoon potato mixture evenly into dough-lined cups. Spoon sausage mixture evenly over potato mixture (cups will be very full).
Bake at 375°F. for 17 to 22 minutes or until edges of biscuits are deep golden brown. Cool 5 minutes. Remove from muffin cups.
___________________________
If you are going to freeze them, let them cool completely before freezing individually in plastic wrap or baggies.
__________________________
What are your favorite quick breakfasts?  I'd love for you to share your ideas in the comment section below.
And if you found this post interesting or helpful, please use the buttons below to share it with your network.