9 Top Tips to Successfully Work From Home
We work from home more than ever these days. And even with the end of pandemic restrictions, working remotely will hopefully remain an option for many workers. Working from home is not just for freelancers or the self-employed anymore.
Working from home isn't always as easy as it sounds, though. Between too little space and too many potential distractions, working remotely has its pitfalls You can do things to make your working from home experience a more successful one.
I've been working from home on and off for much of the last 25 years. During that time, I've raised four kids, two dogs, a husband, and a small zoo. I've learned a little bit about how to manage the distractions and craziness. So here are my nine top tips to help you successfully work from home.
This post contains affiliate links, which means I may earn some money if you click on one and make a purchase. It will not cost you any extra, and I will be grateful for your support. Read the full disclosure here.
Set up a Dedicated Office Space
Whether it's a she-shed in the backyard, a room with a door, a corner of the family room, or a rolling cart with all your work supplies, having everything you need for work in one place will make your workdays much easier.
Keep Your Workspace Tidy
Just because you're at home where no one sees your office doesn't mean it doesn't need to be tidy. A clutter-free workspace not only helps you work more productively, but it also lowers stress and reduces time wasted hunting down essential items.
Limit Distractions
Turn off any unnecessary notifications on your phone and computer. It takes, on average, 23 minutes to recover from a social media distraction. That's a lot of workday. Designate specific times for checking social media and use a timer or tracker to help you. Also designate specific times for reading and responding to emails. And finally, resist the temptation to turn on the television or binge watch on your monitors or tablet while you're working.
Use Tools and Apps to Improve Productivity
Don't waste time reinventing the wheel. There are dozens of great apps out there to help you increase your productivity. Not so you can work harder or longer, but so you can work shorter and smarter. You can find some of my favorite work-from-home productivity helps here.
Use the Right Equipment
If you're working from home on a regular basis, having the right equipment will make your experience more pleasant and more productive. First, buy a good office chair. Working at the kitchen table, or worse yet your couch or bed, isn't doing your body any favors.
If your job involves working with a computer, don't try to get by using a tablet, phone, or small laptop screen all day. This can lead to eye strain and headaches. If you have a laptop, consider investing in a dock and one or two larger monitors. I switched to dual monitors several years ago and now wonder how I ever got by without them.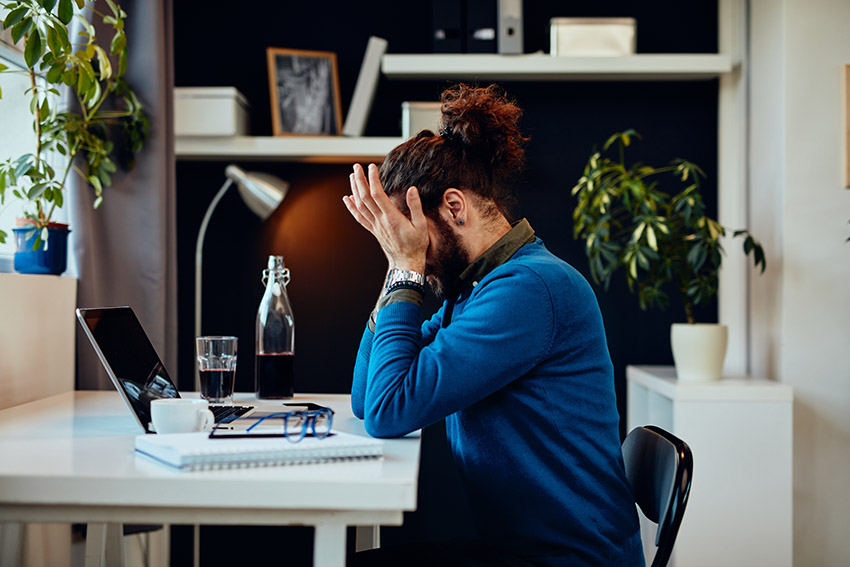 Connect with Co-Workers
Working from home can be a lonely proposition. Connecting with your other home-working team members can help ease isolation. Make use of video meeting apps like Zoom or Google Meet, and instant messaging to stay connected and communicate easily on projects. If it's possible arrange to meet in person from time to time.
Get Moving
Sitting all day isn't good for your physical or mental health. Schedule periodic breaks throughout the day to get up from your desk, take a short walk, do a quick workout, or refill your water bottle. Staying hydrated is important for your health. If it's possible consider investing in a sit-stand desk so you can vary your position throughout the day.
For what it's worth, I LOVE my sit-stand desk. I spend part of my day standing and part of it sitting. It depends on my mood and what I'm doing, but I definitely feel better at the end of the day than I did when I sat in a chair all day long.
Set a Schedule
Plan to start and end your workday on a regular schedule. If you can make your own schedule, determine what will work best for the way you work. If you have an employer who sets your work hours, respect that schedule, and insist your employer do the same. Stopping work at a designated time every day helps you avoid allowing work to take over your life. When you reach your daily stopping time, tidy up your workspace, prep for the next day's first projects, and then STOP. All work and no relaxation are hazards of working from home, and they're not healthy.
Get Dressed
Ok, I get it. One of the big perks of working from home is that you can work in your pajamas. Don't do it. Getting up and getting dressed before you start your workday puts you in the working mindset. You don't have to wear a suit or a skirt and heels, but get out of your pajamas, put on a top that will look good for your video calls, a bottom that you won't be embarrassed for someone to see on a video call, and put on your work mindset.
And when your workday is done, by all means, get back into those comfy jammies and into your off-the-clock mindset.
---
Do you need some help figuring out the ins and outs of working from home? Whether you're an entrepreneur running your own business from a home office, or you've transitioned into remote work with your corporate job, I can help you create systems and a workspace that will help you with working from home successfully and enjoyable. Message me here to learn more.