How to Organize Important Documents, Part 4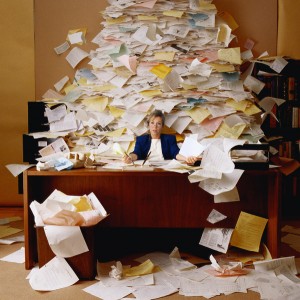 Welcome to Part IV of How to Organize Important Documents. You can read Part I here ,  Part II here. And Part III here.
If you've been following the series, you've taken care of all your piles and pretty much now all you have left are magazine articles, newspaper clippings, recipes and hobby/craft paperwork.
Do you think you'll ever use them?
Be honest now.
If the answer is no, just toss them and go do something fun. No guilt, no more projects that you clearly aren't all that interested in doing hanging over your head.
Didn't that feel good?  Now, don't clip out any more articles. Just find them online and pin them.  Pinterest can be your virtual bulletin board/filing cabinet for all the really cool ideas and really delicious recipes you're never going to do anything with.
But if you really must go through them, here's how.
First, toss all the magazine articles that are more than six months old and don't mention you or a member of your immediate family by name (you can keep those; they're called family history. Put them in an appropriately labeled file folder and file them for future generations to marvel at). You can keep any articles less than six months old that you can get read within two weeks. They aren't going back into your file cabinet or your to-file pile. Keep only what you know you can get to within two weeks.  And remember, you will need to allot time for sleeping, eating and working during those two weeks so be realistic.
If you are a crafty person and you actually make these crafts, you have my permission to keep your favorites. Toss everything that is no longer in fashion. If those crocheted toilet paper covers really do ever come back in style, I'm sure you will find the instructions on the internet. Do not keep things just in case. Do NOT give them to your crafty friends.  They already have too many of their own and don't need to store yours so you won't feel guilty.
Sort the keepers by subject. For example, file knitting patterns in one folder, tole painting projects in another and home improvement ideas (that could actually happen in your house) in their own folder. Every six months go through these folders and purge them.
After the crafts we'll tackle the recipes. If you can't pronounce the dish or the ingredients in it, toss it. Experience shows that most people won't cook dishes with ingredients they can't identify—or find at the grocery store. Before keeping any more, see if you can find the recipe online and either bookmark it or download it and store in a digital recipe file (Cook'n is great for this). I'm a recipe person—I really do make them—and I've started tearing recipes out of magazines, taking them to my desk and looking them up online. 90% of the time, I find them. If I don't I pop it in the scanner and digitize it on the spot. It's much easier finding what I want to cook on my computer than it is sorting through piles of paper (and this is from the Cookbook Queen—I have close to 100 cookbooks in their own special bookcase). Give yourself a timetable for these new recipes—add them to your monthly menu. If you try it and don't like it, toss the recipe immediately so you don't mistakenly make it again.
And last but certainly not least are papers relating to hobbies or interests. The biggest hobby paper tiger I can think of is family history, aka genealogy, though there are certainly any number of other hobbies that can generate reams of papers to be sorted and filed. I can't tell you what to keep and what not to keep and if you're avidly into your hobby, I'll leave it up to you to figure out what's really important.
You know; you just need to ditch the guilt along with the trash.
And in the last installment of this series—just in time for the end of the school year—we'll look at what to do with all those "treasures" your kids bring home from school.