52 Weeks to Fortify Your Family–Book Review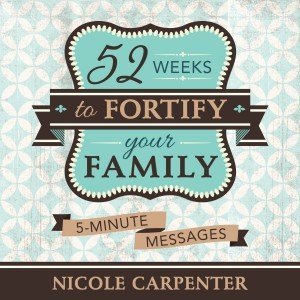 Developing the habit of family scripture study is critical to building a strong family and raising kids who will be strong in the gospel.
But sometimes scripture study is so darn hard. If you just read straight through the scriptures, sometimes the little people (and the not-so-little people) will tune out and not listen well. But with all the other daily tasks, coming up with creative daily scripture study ideas and themes feels like an overwhelming chore.
Well, now there is a solution–and it's a great one.
Nicole Carpenter's new book, 52 Weeks to Fortify Your Family is just what you need to get your family on track with the habit of daily scripture study. This little book is packed with a whole year's worth of scripture study messages. The book is divided into four sections: Value Lessons, Life Lessons, Gospel Lessons and Holiday Lessons. While the lessons are numbered consecutively, you don't have to follow them in any particular order. Lessons can be chosen to meet the particular needs of your family at any given time.
Each weekly topic has a daily thought and scripture to spark discussion for your family. In addition to the seven daily scriptures and thoughts, there is a weekly quote, a supporting conference address for further study and research, and additional "thoughtful questions" in case you need a little help keeping the discussion going and focused.
While Nicole is a mom of younger children and her children inspired this book, 52 Weeks to Fortify Your Family could work well for families of any age. My youngest children are in high school and we found these questions useful as discussion starters. The topics and ideas are appropriate whether you're a single person looking for some study guidance, parenting children of any age or empty nesters.
This is a great solution for families who want to be able to focus on actually teaching their children and studying the gospel and not worry about developing lessons.
52 Weeks to Fortify Your Family is available through Deseret Book here or Amazon here, as well as other booksellers.
A copy of this book was provided to me for review and my opinions are always just mine.