Enjoy a Bite of the Blarney Stone for St. Patrick's Day!
Have you kissed the Blarney Stone? Irish legend says that kissing Ireland's famed Blarney Stone will give you the gift of gab.
Apparently, I must have kissed it very early in life, though I only remember kissing it for the first time last St. Patrick's Day.
I'm not sure if eating Blarney Stone Cookies will give you the same result, but they are so delicious you'll want to give it a try.
Blarney Stone Cookies are a must-have for our St. Patrick's Day celebration. While we know the only thing remotely Irish about them is the color and the name, it's a family food tradition passed down to us from my Irish-American mother—and who am I to toss such a tasty family tradition.
I come from an Irish family. All of my mother's grandparents emigrated from Ireland just before the beginning of the 19th century, and I have long held a love for all things Irish.
Like many Americans, we'll celebrate with corned beef and cabbage, knowing that corned beef is very Irish-American and not a dish eaten across the pond.
And the holiday just wouldn't be complete without our Blarney Stones for dessert.  It's the only time I will willingly eat a green cookie, in fact, it's the only green cookie recipe I have.  We love our Blarney Stones, so in the generous spirit of St. Patrick, I'm sharing my Blarney Stone Cookie recipe with you.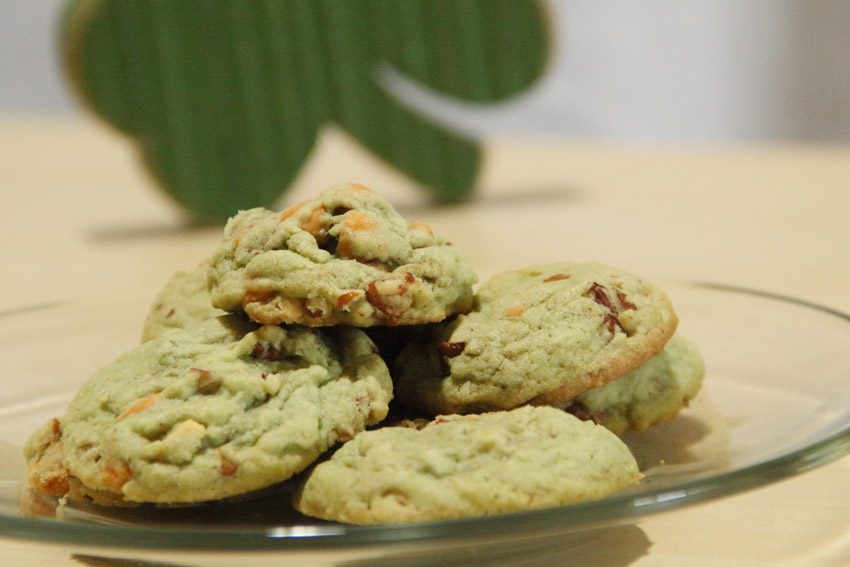 Blarney Stone Cookies
1 cup butter, softened (not shortening)
3/4 cup brown sugar
1/4 cup granulated sugar
1 teaspoon vanilla
1 package pistachio pudding mix (4-serving)
2 eggs
6 drops green food coloring
2 1/2 cups flour
1 teaspoon baking soda
2 cups butterscotch  chips
1 cup pecans, finely chopped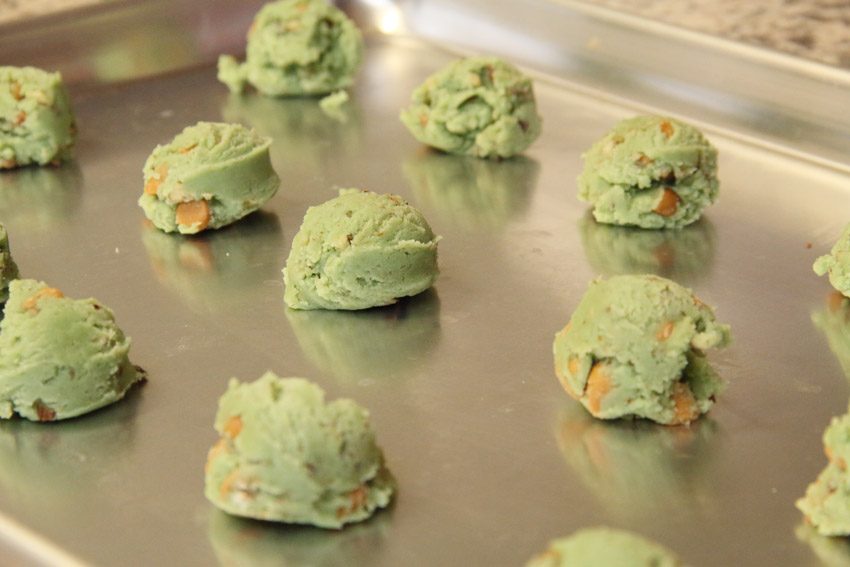 Cream butter, sugars, vanilla and pudding mix.  Add eggs and food coloring.  Mix in flour and baking soda.  Add butterscotch chips and chopped pecans.  Chill for an hour or more.  Roll into walnut-sized balls and place 2″ apart on an ungreased cookie sheet.  Bake for 8 minutes at 350 degrees.
Notes:  If you are at high altitude, like we are, Notes:  If you are at high-altitude, like we are, I recommend adding an extra 1/4 cup flour.  Also, I am the least patient person on the planet and when I want cookies, I want them now, so I have never refrigerated my dough and they have turned out fine.  If you do refrigerate the dough, they just don't spread quite as much when you bake them.
Do you have any traditional family favorite recipes or activities for St. Patrick's Day? Please share them in the comment section below