Creative Accessories to Make Photography Fun
I thought I would do something a little different this week.
I was surfing Facebook and a post by one of my photographer friends popped up. Not hard considering that's probably about half my Facebook. Anyway, it was the coolest T-shirt and I bookmarked it and thought about it and looked at it some more–and I finally decided that I really needed one.
Of course, by the time I got around to it, the first round of ordering was over and now I have to wait for, like, 85 more people to order before I can get one.
So it kind of got me thinking about other photography fun and I started web surfing my wish list. Just because I make photographs for a living doesn't mean it shouldn't be fun. After all, once photography stops being fun, I'm out of here.
Thank goodness that will never happen.
I have a camera bag. In fact, I think I have five or six. One's gray, one's olive drab, and the rest are black. Bo-ring. Very functional. Very durable. I think at least one is older than my kids. But still — boring.
These bags from Kelly Moore on the other hand, are anything but boring. Cool styles, cool colors. They don't even look like camera bags.
If you want to see more, just click on one of the pictures to go to her website.
Who doesn't need a flash drive these days? I am always in search of a flash drive. I probably have at least a dozen hanging around here, but can I find them when I need them?
Nope.
But you can bet your last can of Kodachrome (do you know what that is?) that I wouldn't lose one of these cool flash drives. Definitely what this old-school photographer needs to remind her of the old film days. Especially since I've used all of these at one time or another. You can get these at Photojojo by clicking on the picture.
And speaking of memory storage, if you've got a digital camera, you've got memory cards. And if you've got memory cards, you need somewhere to keep them. I mean, it's not like you want to just stick all the spares in your pocket with the dryer lint, right? Well, why not store them in style. Love these two pretty purple memory card holders that I found on Amazon. Remember, you can just click on the pictures to find the source of all the cool stuff. If you're not a fan of purple–though I can't imagine why you wouldn't love such an awesome color–they both come in a slew of other colors as well.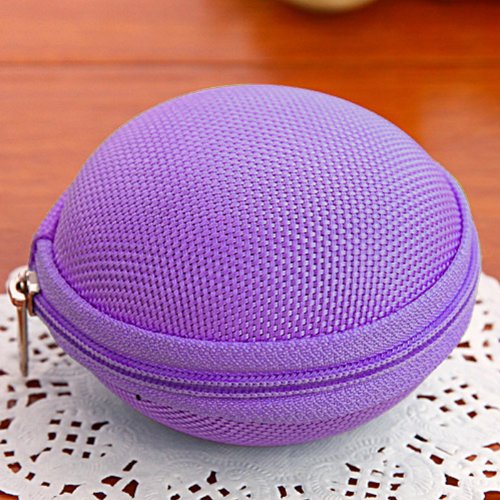 So, strictly speaking it isn't really a camera accessory, but my cell phone has a camera in it and I do use it every day. But how much more fun is this than boring black! I think someone should send me one of these.
If you've got a camera, you need a way to hang on to it. It gets really tiring to hold that beast in your hand all day. Why not make that practical necessity a fashion statement? I surfed several sites that had DIY cute straps, but I really don't want to spend my time making camera straps. And why should I when they are as cool as these straps from Abie Straps and Photojojo?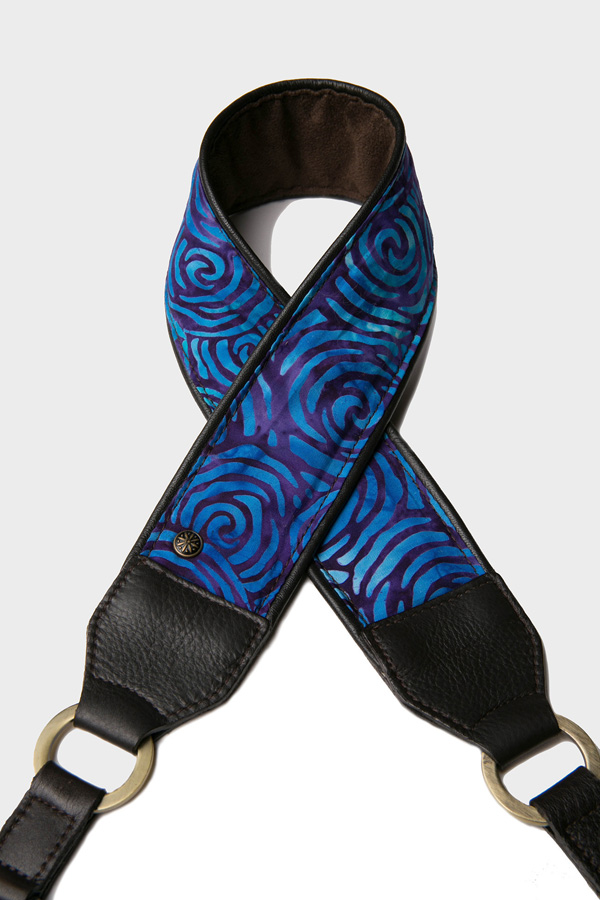 This one's called the "Spring Break." I can totally see why.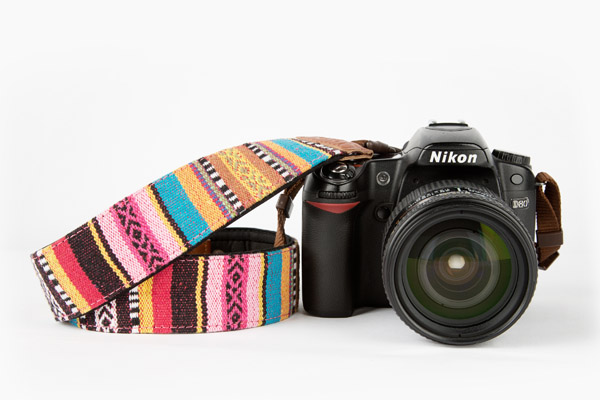 Finally–a camera accessory I actually DO own. This is actually backpack #3. First I had a big black one. It was a little bigger than this and about three times as heavy. Thank goodness for technology.  Not only is this one so much easier for my Sherpa to tote around for me, but it holds every thing I need, has a hydration pack pocket (right there on the right–a nifty hydration pack fits in there. I bought mine at Amazon for only $10), AND it comes with its own built-in rain coat. Coolest thing ever. And I gave it good test run last night. Rain coat was drenched. Backpack was dry. Gotta love it.
I lose lens caps like some people lose car keys. I don't know what it is, but I lose lens caps all the time. I am thinking this might be a much cheaper investment than all those lens caps I have to keep buying. I can't stand the little cap keeper things–you know, that make your lens cap dangle off the lens (ugh). I have two, or maybe three. But they don't do me any good because I won't use them. This little Hufa cap clip, though, I could get used to that. I might have to just go ahead and buy one of these.
Oh, come on. What photographer doesn't need one of these? I've already got the lens–now I just need the matching mug. This would be so cool so sip my cocoa out of while I'm sitting at my computer editing today's photo shoot. If you really love me, you could buy me one for my birthday (it's in two months, exactly). Definite photographic coolness. They're even Canon lenses. Life doesn't get much better than that.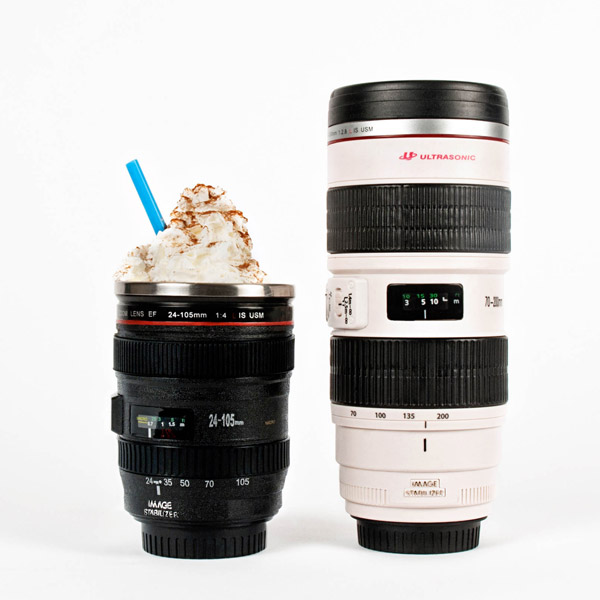 And finally–the t-shirt that started this whole post. Best photography t-shirt ever. I just need 84 more people to buy one so I can get mine.
So, I'm counting on you to pick up the slack here. Go buy a t-shirt. Or 6. Don't like t-shirts? It comes in a hoodie, too.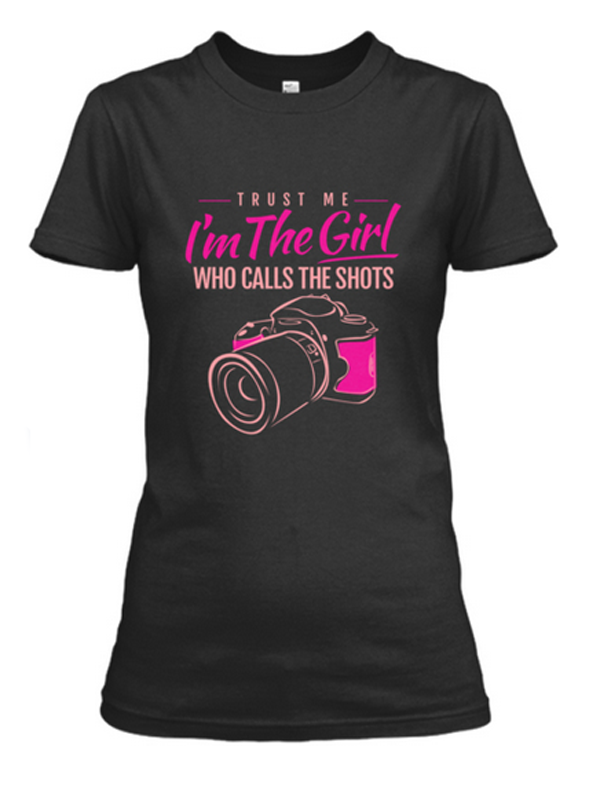 So, what fun photography goodies have you found? Share your finds with me in the comment section below.
Are you still here? Go buy a t-shirt, for Pete's sake. I'm not a very patient girl and I want my shirt!