Are you "Born Brave"? CD #Review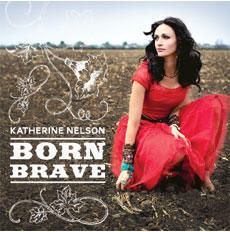 Born Brave is the title and the title track of artist Katherine Nelson's third CD. Born Brave is one of those songs that just makes you not only want to sing along–all bold and loud even when you're like me and can't carry a tune in a bucket–but to get up and dance as well.
An anthem to self-confidence, it is one of those feel good songs. For me, it went right to the top of my "inspirational" play list, all the songs I play–and sing along to–when I need a boost. And the really cool part? This isn't the only song on Katherine's album that feels good and leaves you feeling good.
This is an album to listen to over and over.
And I want to give one of my wonderful readers the opportunity to listen to this beautiful album over and over.
And believe me, you're going to want this one.
I could write all day long about all the songs I love on this album. Home Sweet Home is another favorite, with a great catchy tune and fun lyrics, I can totally relate to the dancing around the kitchen and non-identifiable meals, Katherine talks about in describing this song. And the album closes with a beautiful tribute to Mary, called Virgin's Lullaby. This album celebrates life and love and women and all our strengths and the things the bind us together.
I need to offer many thanks to Katherine Nelson and to Your LDS Radio, who is sponsoring this review and giveaway, I have one copy of Born Brave for a lucky listener.
Your LDS Radio  streams LDS music 24/7 online and on your phone. Check out the Your LDS Radio website and facebook page to learn more.
To enter, follow the instructions on the Rafflecopter form below. This giveaway ends at midnight eastern time on Thursday, August 23rd, so don't miss out!