Five great reasons to use Google Voice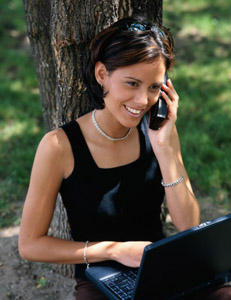 Google Voice is the smartest phone decision I have ever made for my business. I only wish it had been launched years earlier, saving me hundreds of dollars in landline and cell phone fees for my business and making my telephone choices less complicated.
For many years, I was a professional photographer. I worked out of my home for a time and I had a commercial studio space. Even when I had the studio space, I frequently worked on location, meaning I either had to rely on potential clients to leave a voicemail and wait for a return call, or I had to give out my cell number, essentially giving my clients 24-hour access to me. Neither was a great solution.
When I relocated to Colorado a couple of years ago, a colleague suggested I look into Google Voice, a relatively new free telephone service offered by Google (duh). After doing a little research, I jumped on board and I've never looked back.
Google Voice is Free
With Google Voice, I have a local phone number and I have free incoming and outbound calls in the US and Canada. I don't call anywhere else, but if I did those calls start from only 2¢ per minute.
Google Voice is Flexible
It wasn't the cost that sold me, though. Google Voice has some great features for an entrepreneur who works like me. Currently, I spend most of my work day at the computer. With a good headset, I can make and receive all of my business calls right from my computer, keeping both my home landline and my cell phone free for non-business calls. If I need to be on location or simply want to be away from the office, with one click, I can receive and make Google Voice calls from my cell phone. And when my cell phone does ring, I am notified if it is a Google Voice call before I answer it, allowing me to make sure I'm in business mode for my clients.
Call Screening is a Breeze
When I receive a call through my cell phone, I have the option to either take the call or send it to voice mail. This option is especially useful if I am in a meeting, but expecting a call from someone specific. I am able to only answer that call and not allow calls not relevant to my meeting to interrupt my client's time.
Another nice business feature is "Do Not Disturb." If you only want to be available during business hours, you can enable Do Not Disturb and have it either turn off automatically a specified number of hours later or you can manually turn it off.  When I am working on a deadline and need to be free of distractions, this feature is definitely a bonus. The only thing that would make it better would be the ability to automatically schedule this to turn on and off, especially for a business with set hours.
Text Messaging is Included
I can also send and receive text messages through Google Voice, a feature that is becoming increasingly useful as more and more people choose to communicate by text message.
Voice Mail Made Easy
And did I mention the coolness of Google's voicemail? I get a transcript of my calls emailed to me and I can have them texted to me as well. Sometimes I'm not in a place where listening to voicemail is convenient. While the texts are sometimes humorous in their transcription, most of the time I get a pretty accurate message. Google Voice also stores and archives my messages so I can retrieve and review them at any time, as well as my call history. The address book neatly syncs with my Google contacts, making it so easy to keep track of all my contacts in one place.
I can also have multiple outgoing voice mail messages stored in my account, so that changing the message for special events or for holiday closures is a simple matter. Currently, I have four different messages stored. I'm not sure what the maximum is, but I can't imagine needing much more than what I have.
There are some additional features that I don't currently make use of such as call screening that asks your inbound callers to state their name so you know who is calling, the ability to add a Google Voice widget to your web page so people can do a one-click call right from your site and a conference calling feature, among others.
To find out how Google Voice can simplify your business communications, you can find more information here.
What have you found online to help simplify and organize your business? Have there been any that surprised you or really made a difference for you? Please share in the comment section below.