Amusement Parks Make for Summer Photography Fun
Well, it's summer and we needed a break, so a trip to the Elitch Gardens water park was in order.  I took my three youngest kids and we all had a ball.  Not only were the water slides cool and refreshing, there were all kinds of brightly colored subjects to photograph. When we go on family outings, I have as much photography fun as I do playing with my family. And by now, they are all so used to it, they help point out subjects I should photograph.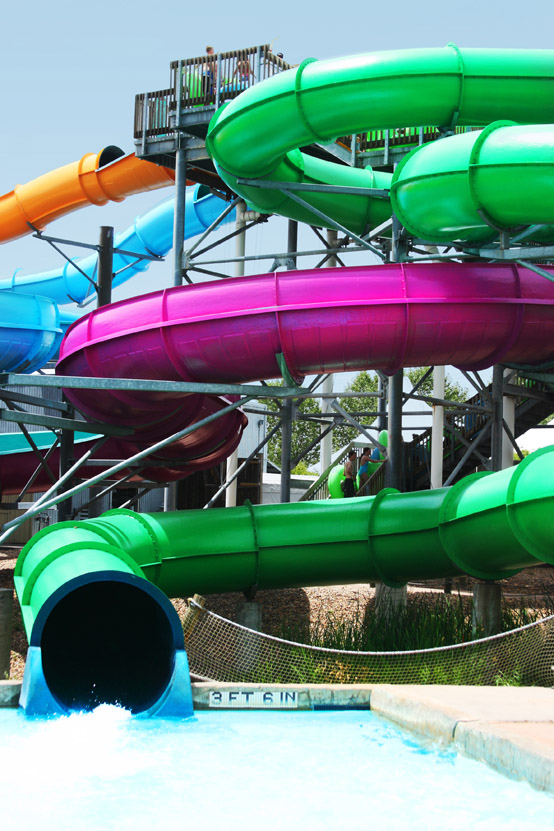 When you go on an outing to an amusement park or water park with the family, turn your camera away from the kids for a minute and capture some of your surroundings.  Look for the colors and patterns of the architecture and the rides.  If you're a scrapbooker, they'll make great accents and backgrounds for your scrapbook pages and help to give additional dimension to the story you're telling.  Some of them can even make some great art to hang on the walls of your home.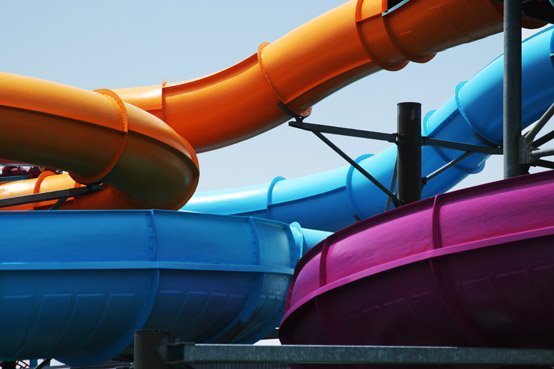 I had plenty of opportunities for photography fun while the kids rode all kinds of water slides, floated on the Lazy River and played in the wave pool. Amusement parks are nearly always full of colors, textures and patterns. Combine that with beautiful blue water and brightly-colored summer swimsuits and you can get some unbeatable photographs.
Unfortunately, in the time we were there, they didn't activate the waves in the wave pool, so that was kind of a bummer–the girls really like jumping the waves and I have to admit, I certainly don't mind the absence of salt and seaweed–and other things–in my swimming water.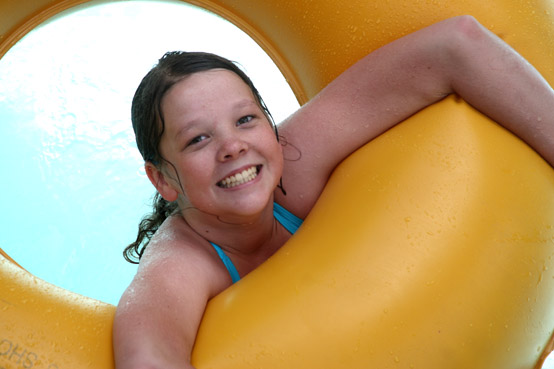 We had so much fun at Elitch Gardens, we decided to go back in the evening for some roller coaster riding with Dad.  Fortunately, we have season passes, so we're making the most of a summer at Elitch.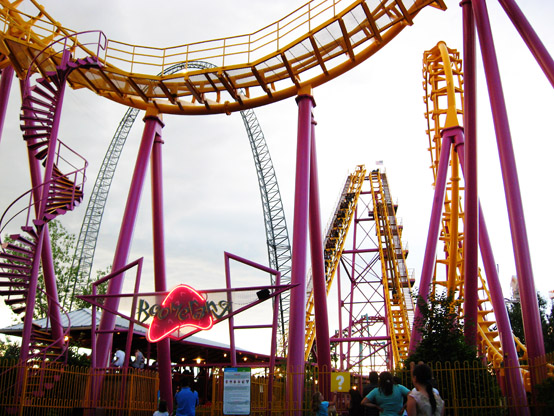 And, of course, I brought my camera.  Evening is such a fun time to make photographs at an amusement park or carnival midway.  The sky is still pretty and the lights on the rides come on and it just makes for great photos.  I'm planning another outing–maybe date night–so I can just go and have some evening fun with my camera.  I did ride just about all the big coasters at Elitch and discovered that my body just doesn't like roller coasters as much as it did 20 years ago.  Thankfully, though, I enjoy photographing them now even more.