What Makes Us Sisters–Book Review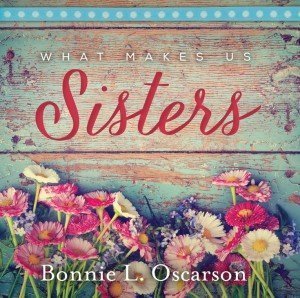 Sisterhood is a beautiful thing. What Makes Us Sisters by Bonnie L. Oscarson is a lovely reminder of the importance of sisterhood and how we need to nurture and build these bonds. This beautiful little gift book is adapted from her address "Sisterhood: Oh Wow We Need Each Other" from the April 2014 General Conference of The Church of Jesus Christ of Latter-day Saints.
Sister Oscarson talks about the bonds that bring us together and how that sisterhood implies that bond needs to be unbreakable. Sisterhood is so much deeper than just friendship or association. She says, "Sisters take care of each other, watch out for each other, comfort each other, and are there for each other through thick and thin." I love that.
She also reminds us that young or old we all need one another. In true sisterhood, the generations melt away and we learn from and love one another. She acknowledges that we have differences, but emphasizes that differences need not be barriers. "If there are barriers, it is because we have created them. We must stop concentrating on our differences and look for what we have in common; then we can begin to realize our greatest potential and achieve the greatest good in this world."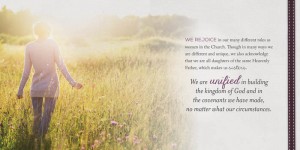 This short and sweet volume has wisdom and inspiration on every page. It is the perfect gift size. As I read it, I thought what a perfect gift it would be for my Young Women who are graduating from high school this year and transitioning to Relief Society.
And speaking of Young Women transitioning to Relief Society, Sister Oscarson suggests that what these Young Women need most as they transition are friends. Remembering back to those transitional years in my life, she is absolutely right.
Whether you are looking for some personal inspiration in your life, or a lovely gift for one of your sisters, whether it's graduation, baptism, a welcome basket or just because, What Makes Us Sisters is a lovely reminder of the bonds that women share.
What Makes Us Sisters is available in beautiful hardcover from Deseret Book or at Amazon.
---
About the Author: Bonnie L. Oscarson was called to be the general president of the Young Women in April 2013. She initially studied commercial art at Brigham Young University and then returned to school after 35 years to earn a bachelor's degree with an emphasis in British and American Literature. As a young mother, she served with her husband, Paul Oscarson, as he presided over the Sweden Goteborg Mission. They returned to Sweden 30 years later to serve as matron and temple president of the Stockholm Sweden Temple. They are the parents of seven children and grandparents of twenty-seven grandchildren.
A copy of this book was provided to me for review and my opinions are always just mine.