Road trips are my favorite way to travel. I love to see new things and visit new places and I always learn something from every adventure.  My recent road trip to Florida was no exception.  Besides seeing a whole lot of new country and getting to spend some quality time with my son, I learned a few things that translate well into other areas of my life.  Here are the first three:

Know where you are going and don't rely on someone (or something else) to plan your course for you.  We used a GPS, but planned the route out ahead of time so I was familiar with where I should be going. This turned out to be a good thing since my GPS was apparently possessed. She got lost a couple of times and began spouting out random rapid-fire directions that made no sense including one to make a right turn into a big ditch, tried to get us to make a U-Turn in the middle of the Kansas Turnpike and rerouted us through Kentucky onto Mr. Toad's Wild Ride. In spite of Ms. Beta's best efforts (try and tell me your GPS doesn't have a name), we made it to our destination–and Mr. Toad's Wild Ride actually turned out to be pretty fun and not really any longer than the "safe" route.
No matter what your unique talent, you can find a way to use it.
We spent a few days at Disney World and saw a lot of different shows while we were there.  One thing that I saw over and over was that people with very diverse skills and talents were incorporated into both the Disney shows and into different jobs in the parks.  Musicians, gymnasts, jugglers and stilt walkers all found spots in Disney shows along with the more traditional singers and dancers.  And beyond the traditional jobs you'd expect to see in an amusement park, there are also computer professionals, engineers, botanists, food scientists and researchers of all types employed there.  If you have a skill or talent that isn't necessarily "traditional" you are likely to find a way to work it into your career.  It may take some creativity and effort, but you can always find or make a place doing what you really want.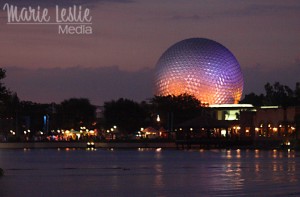 It simply isn't possible to do everything all at once and, if you are trying to be all things to all people, you'll only succeed in making yourself miserable.  There were so many things to do and so many places to see as I traveled across country; sidetrips & stops were a constant temptation.  But I had a goal and that was to deliver my daughter's household belongings to FLorida.  Even after I got to Florida there was an endless list of choices for spending my time.  I only had five days so I had to choose the activities that best fit in with our schedule and our plans.  As a result of not overplanning, every day was enjoyable and I came home with lots of great memories (and photos) of our trip.  I also came home with a list of activities I'm looking forward to on our next visit.
Being selective also applies to blog posts.  I gained lots of great insights on this trip, but including them all today would make for a ridiculously long blog post, so I've picked three of my favorites.  Stop by again for more Lessons from the Road.
__________________________________________________
What have you learned from your travels through life?  Please share your comments, questions and observations below.