"Supreme Power" Examines the Supreme Court's Impact on America
Supreme Power Summary
In Supreme Power: 7 Pivotal Supreme Court Decisions That Had a Major Impact on America, New York Times bestselling author and United States District Court Judge, Ted Stewart, explains how the Supreme Court and its nine appointed members now stand at a crucial point in their power to hand down momentous and far-ranging decisions. Today's Court affects every major area of American life, from health care to civil rights, from abortion to marriage.
This fascinating book reveals the complex history of the Court as told through seven pivotal decisions. These cases originally seemed narrow in scope, but they vastly expanded the interpretation of law. Such is the power of judicial review to make sweeping, often unforeseen, changes in American society by revising the meaning of our Constitution.
Each chapter presents an easy-to-read brief on the case and explains what the decisions mean and how the Court ruling, often a 5-4 split, had long-term impact. For example, in Lochner v. New York, a widely accepted turn-of-the-twentieth–century New York State law limited excessive overtime for bakery workers. That law was overturned by the Court based on the due process clause of the Constitution. The very same precedents, Stewart points out, were used by the Court seventy years later and expanded to a new right to privacy in Roe v. Wade, making abortion legal in the nation.
Filled with insight, commentary, and compelling stories of ordinary citizens coming to the judiciary for remedy for the problems of their day, Supreme Power illustrates the magnitude of the Court's power to interpret the Constitution and decide the law of the land. Supreme Power gives readers a captivating look at how much power the Supreme Court actually has and how far-reaching the consequences of some of their decisions can be.
Supreme Power Review
Supreme Power is a thoroughly researched and well-written work that has made me think about the Supreme Court and their role in our government. Some of the cases I was familiar with either because I had studied them in school, or I remember reading about them in the news. Others, however, I confess never having heard of.
I learned so much more about the cases I knew than I ever learned in school (and I took classes in constitutional law in college). I like that each case is summarized in an easily readable way, and the book does not come off as a series of legal briefs. Ted Stewart clearly understands how to explain legal issues in plain English for the lay person. Oh, that all legal writing could be this clear.
Mr. Stewart does not write this book with the intent of swaying our opinion on the outcome of these cases, but rather writes with the intent that we understand the power the Supreme Court has come to hold over our country and to help us consider whether or not this is in our best interest.
I found this quote from Justice Samuel Alito's minatory opinion in the book's final case to be very interesting an thought-provoking, and think perhaps it really illustrates the point Mr. Stewart was making in this book:
"If a bare majority of Justices can invent a new right and impose that right on the rest of the country, the only real limit on what future majorities will be able to do is their own sense of what those with political power and cultural influences are willing to tolerate…."
This book would be of particular interest to those interested in history, law or politics.
Supreme Power: 7 Pivotal Supreme Court Decisions That Had a Major Impact on America by Ted Stewart, is available in Kindle, Hardcover and Audio CD from Amazon.com or a bookstore near you.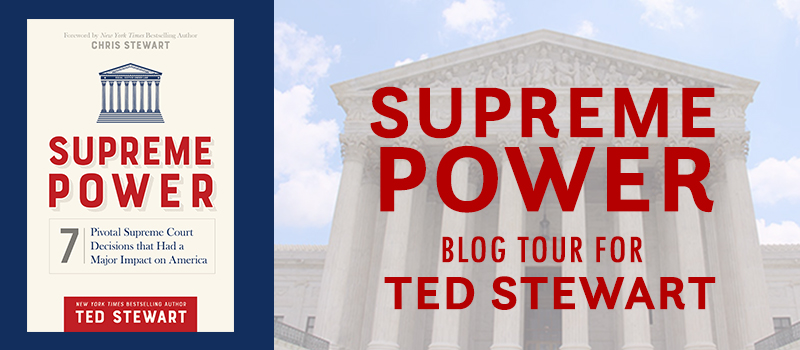 A copy of this book was provided to me for review and my opinions are always just mine.
And yes, if you click on these links to buy, you won't pay a penny more, but you'll help fund my reading habit with a small commission from Amazon.