Reduce stress by preparing for emergencies and evacuations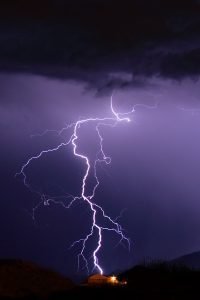 Fire. Flood. Lightning strike. Tornado.
You don't ever think it will happen to you. Those kinds of things always happen to someone else, right?
Don't count on it. All four have happened this week in Colorado.
We have yet another crazy wildfire here. Watching the news and smelling the smoke made me think about what I would do and re-evaluate whether my emergency plans are up to snuff.
I grew up in Southern California. They have two seasons there: rain and fire. I remember being packed to go during one notable summer fire. Though ultimately we didn't evacuate, my father helped others evacuate and the event stuck with me.
I spent my last decade in Southern California living in a wood-frame house on the edge of town. Dry brush that doubled as kindling in the summer and fall extended for miles beyond our neighborhood.  The daily sound of fire engines rushing somewhere was a way of life. Because my husband had a job that required him report to work in the event of a disaster, I would be solely responsible for taking care of our kids and animals in an emergency.
With earthquakes and fires our most likely disasters, the my planning focused on those two eventualities. We prepared 72-hour kits, secured our water heater and prepared an evacuation checklist.
Knowing that evacuation with four young children—and animals—would be a stressful event, I didn't want to have think about what I needed to take or where to find it. So I created a list of the things I would take in an evacuation, in order of importance and included their location. This way, I wouldn't have to waste time looking for important documents, family photographs and other critical, irreplaceable items in a fire. And I posted the list in a private place where I could refer to it quickly.
What was on my list? Nothing unusual—72-hour kits, important legal documents, necessary medications, computers, family photographs, journals, jewelry and a couple of pieces of old furniture. I know the furniture sounds weird, but if I had time in an evacuation, it's what I would take.
Did you notice what wasn't there? No clothes, toys, books or "stuff." We had a change of clothes in our 72-hour kits and all those things are relatively easily replaced.  My emergency plan dealt with the irreplaceable things that were most important to me and my family. Your emergency plan should include the things that are most important to you.
Thankfully, we never had to evacuate. Sadly, though, a couple years after we moved, devastating fires came through our community and several homes in our neighborhood were burned.
Recently, one of my out-of-state cousins contacted me and asked me to serve as her family's emergency contact. Because I live in a different part of the country, it isn't likely we'll be involved in a disaster at the same time. I have contact information for all of her family members, and they all have mine. In an emergency, when local communication may be impaired, they know to check in with me and I will relay messages.
To help get you started in creating your own emergency plan, here are a few online resources for you.
The FEMA website. Yes, it's that FEMA. They have lots of great resources and information. Don't dismiss the site because you didn't like the way they handled some disaster.
The National Safety Council Lots of safety information of all types on this site. This link is for emergency preparedness.
72 Hours  This site has information on 72-hour kits and emergency plans for all types of people and situations.
American Red Cross  This is their family preparedness site.
Do you have a plan? Do you know what you will do if you're in the path of a natural disaster? Have you been through an emergency before? Please share your thoughts and stories in the comment section below.  And please share this with your network.