This New Cookbook will Help You "Simplify Supper" #Review
Simplify Supper Summary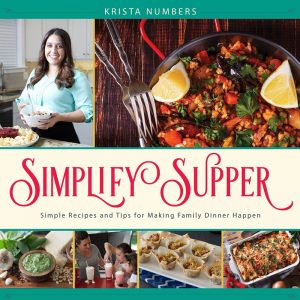 Is dinner time crazy time at your house? Do you end up with take-out far more often than you'd like–or like to admit? Simplify Supper is the cookbook for you. This new cookbook by Krista Numbers is full of simple, delicious dinner recipes AND tips for reclaiming family suppers.
From her grandfather Salvatore Granato's roots in Southern Italy to the legacy of her family's beloved Italian deli in the heart of Salt Lake City, Krista Numbers has a deep-seated love for good food. In Simplify Supper, this busy wife and mother proves that simple can be satisfying as she dishes up dozens of delectable dinners. From some of her family's best-loved Italian meals to fast feasts with an international flair, discover quick comfort foods you'll want at the heart of your dinner table, such as:
Angel Hair Pasta with Basil Cream Sauce
Smoked Turkey Panini with Pears and Blue Cheese
Honey Lime Chicken Enchiladas
Teriyaki Chicken with Ginger Rice
In addition to her collection of simple and satisfying meals, Krista shares personal anecdotes, sanity-saving kitchen tips, and suggestions for making family dinner a time for good food and good conversation. No matter the occasion, there is a recipe here to help you get a delicious supper on the table, pronto.
Simplify Supper Review
Who doesn't want supper to be simpler? I love to cook. I love making dinner for my family and having everyone together for the evening meal.
I also live in the real world. There are work schedules, sports schedules, homework, church commitments, social activities, and a zillion other things competing for my family's attention every night. And frankly, I don't always have a couple of hours every day to cook.
Enter Simplify Supper by Krista Numbers. Simplify Supper is packed with delicious family dinners, with an emphasis on Latin and Italian foods, and I don't think there's a recipe in the book that takes more than 30 minutes of prep time. And most take less than that.
We tested out the Costa Rican chicken last week. It took me about 5 minutes to mix up the marinade, and the usual amount of grilling time for dinner. My family pronounced it a "keeper." I've added the Simple Beef Stroganoff and Bowtie Chicken Pasta Salad to this month's menu. I was also happy to find an easy Sopaipilla recipe that actually cooks up like it should (though the picture of tasty-looking round sopaipilla made me laugh, since the recipe calls for squares—and I've never seen a round sopaipilla).
If you've never experienced the delicious delight of a sopaipilla, you should buy this cookbook just for that recipe—and then try all the others.
In addition to the tasty and time-saving dinner and dessert recipes, Krista has filled this beautiful book with quotes, family-dinner tips and hungry-making photography. The last one is always a key to a great cookbook in my world. If just reading the recipes doesn't hook you, the photos of every recipe in the book will pull you right in.
Buy the Book
This post contains affiliate links, which means I may earn some money if you click on one and make a purchase. It will not cost you any extra, and I will be grateful for your support. Read the full disclosure here.
Simplify Supper by Krista Numbers is available in paperback from Amazon.com.
It's the ideal cookbook for not only busy families, but anyone who wants to cook like a pro without being a cook.