FilterGrade Photoshop Actions Enhance Creative Photography
I love photography.
And I love Photoshop.
And really cool actions make Photoshop even more fun. FilterGrade Photoshop Actions definitely fall into the category of "really cool actions."
A while back I wrote a post about the good, the bad and the just plain wrong of Photoshop Actions. Mike at FilterGrade saw my post and invited me to try out his action set and tell him what I thought of it.
Being an Action junkie, of course, I jumped at the chance. Get creative with a set of 220 different Photoshop Actions? You don't have to ask me twice.
So, let's get to it. I picked four different images to test them out on: two landscape photos from my trip to the Tetons and two portraits of my youngest daughters. You can see my results at the bottom of this post.
One of the things I really like about the FilterGrade bundle is that they come both in sets, and individually. When I first installed them and loaded the actions, I was a little overwhelmed by a list of 220 different actions. How do I choose which one to start with?
And then I realized that they were also grouped by category in folders. What makes this so nice is that I was able to do all the editing I needed to do on my originals and then I could choose a folder full of actions to run. The actions are designed to run the full set at once, each on its own layer. This makes it really easy to see the effects of each action or to experiment with multiple actions from a set. And experiment I did.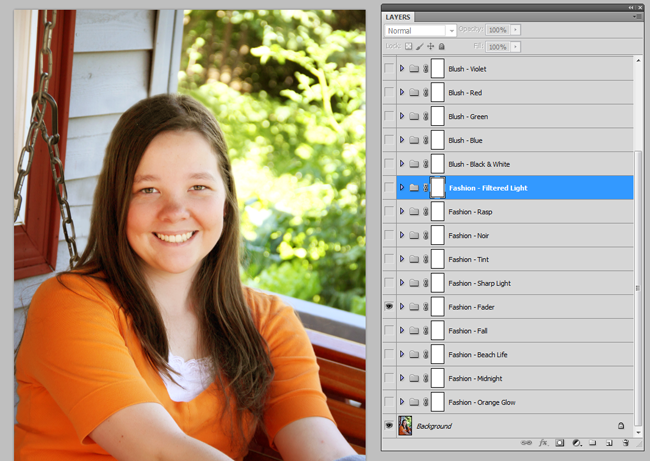 This set is not only fun, but like all good actions, it makes it easy to employ creative effects on your photographs without spending hours tweaking—not that you won't end up spending hours once you get started on these actions. I sure did. Oh, and did I mention that FilterGrade has a Pinterest board with ALL the actions demonstrated so you can have some idea of what they'll do before you even start.
If you enjoy taking your photographs a little farther, you will have a ball with the FilterGrade Photoshop Actions Bundle. Whether you want to create effects reminiscent of old film, create some high-fashion looks, experiment with "light leaks" or any of the eleven action series, you will find endless opportunities to exercise your creativity with these actions. And at only $49 for the whole shooting match, you won't break the bank.
I definitely foresee some extensive use of these actions. I have a couple of portrait sessions in my editing queue that can definitely be highlighted by some judicious use of these actions. Stay tuned for future blog posts.
You can order the FilterGrade Photoshop Actions Bundle here. You can also order individual actions sets.
The FilterGrade Photoshop Actions Bundle was provided to me for review and my opinions are always just mine.