Amazing Maui Waterfalls on the Road to Hana
I love waterfalls. Perhaps it's from growing up in semi-arid San Diego and spending most of my early travels in the desert Southwest. Or perhaps it's just marveling at the power of water and the beauty of falling water. I've yet to meet a waterfall I didn't fall in love with. A couple of years ago, Hubby and I traveled to the Pacific Northwest and, while he was content to just view the waterfalls as we traveled by, I induced him to stop at nearly every one so my Instagram feed would be filled with "Waterfall of the Day."
I suppose he should have known what he was in for when we planned our trip to Maui last fall. The eastern side of Maui (the more tropical side)  is like a giant ode to waterfalls. We heard a lot about the Hana Highway while planning our trip–mostly that it was terrifying and not for the faint of heart, but I'll write more about that in another post. Those warnings only served to increase the appeal for this pair of adventurers. I was anticipating some amazing Maui waterfalls, and the Road to Hana didn't disappoint.
These amazing Maui waterfalls were a few of my favorites. We stopped to view and hike at least a dozen more, but I will save the rest of our Hana adventures for another post. Most of these images are available for purchase in my art store and you can find all your art options by clicking on any image that interests you.
Have you traveled the Road to Hana? I'd love to hear your experiences on this most scenic of routes.
---
This was the first waterfall we stopped at on our adventure. There is actually a falls before this, the very well-known Twin Falls, but it was really crowded and we decided to save it for another outing. When we first came upon this waterfall, it felt so surreal to me (this was my first visit to the "tropics") and I felt  like I had stepped into an old movie set or something out of a Disney adventure. Truthfully, my first thought was, "Oh, look. It's Raiders of the Lost Ark." I don't know why, since it was a desert movie, but that was it. I was completely enchanted.
Waikamoi Falls was one of my favorite stops. All by itself this adorable swimming hole with its rope swing would have been enough. And there were plenty of swimmers, of all ages, making use of the rope swing while we were there. If I'd been smart enough to wear my swimsuit (next trip!), I would have been there too.  But there is a path off to the right of the photo and we decided to see where it led. We were not disappointed, as you'll see in a subsequent photo.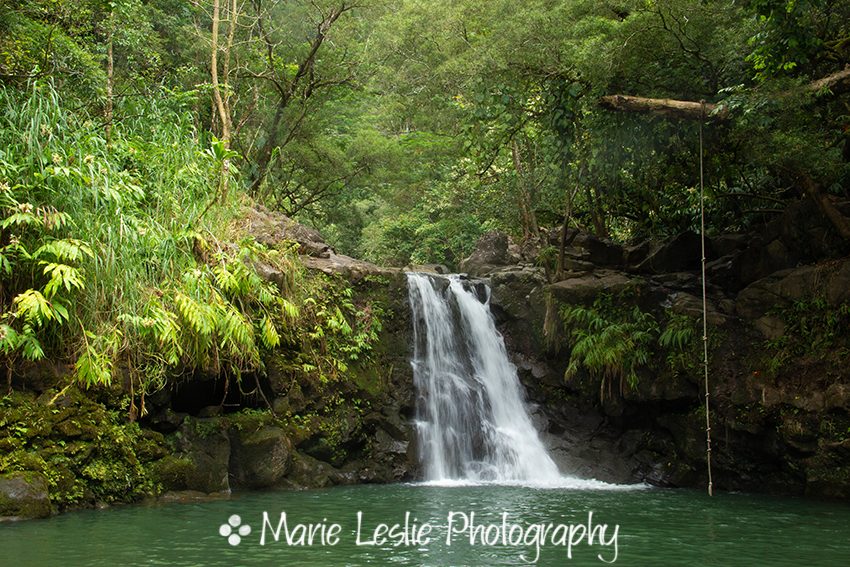 We managed to schedule our trip to Maui to coincide with the first ever tropical storm to make landfall in Maui, and I'll blog about that soon. No, it wasn't planned. I just seem to have an uncanny ability to attract storms, and this trip was no exception. Since we weren't able to stay in Hana due to the approaching storm, we drove out there before the storm arrived and that was when we photographed most of these incredible waterfalls. And when the road opened up after the storm, we decided to drive out toward Hana again, mostly because we wanted to find a roadside stand selling the famous Maui Coconut Candy. It was worth the trip. But just for comparison, this is a photo we took of Wakamoi Falls AFTER the storm. What a difference!
Our hike up behind Wakamoi Falls led us to this beauty. Looking up the cliff there are additional waterfalls continuing all the way up the mountain. Yes, that's a little cave off to the right, and we were told that you could actually swim behind the falls. But my camera isn't waterproof, so I had to content myself with this view. For the record, when we went back after the storm, there was just too much water for us to hike up here again. We crossed the river above the falls two or three times to get here–and it was just not safe after Olivia passed through.
Our next stop was the Kaumahina Wayside.  I felt like that little second waterfall in the back was just a bonus treat.  Every waterfall we stopped at was so different and each so beautiful in its own way.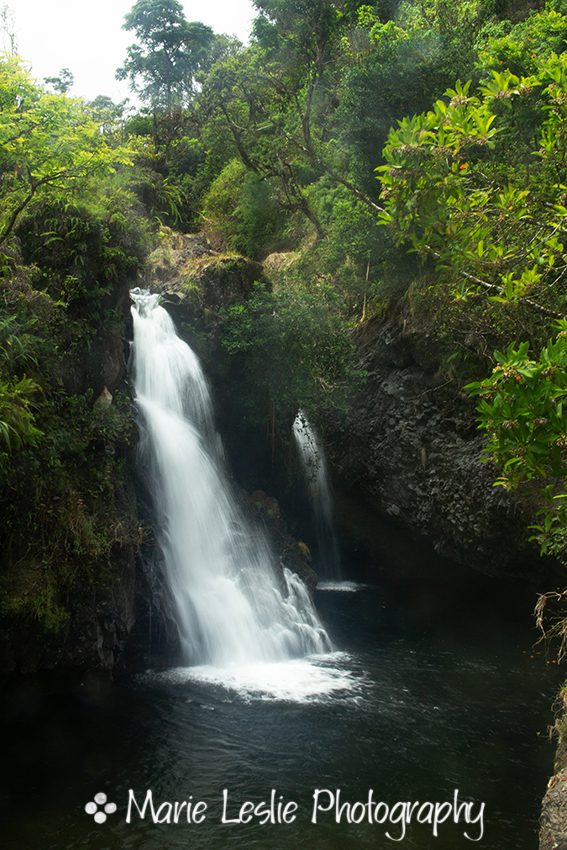 As you can see, Upper Waikani Falls is a very popular swimming hole–and with good reason. Beyond the beautiful cascades at the left that flow into a beautiful calm blue-green pool, there is this beautiful drop on the right. I was so taken initially with the falls on the left, that it took me a few minutes to even notice the other.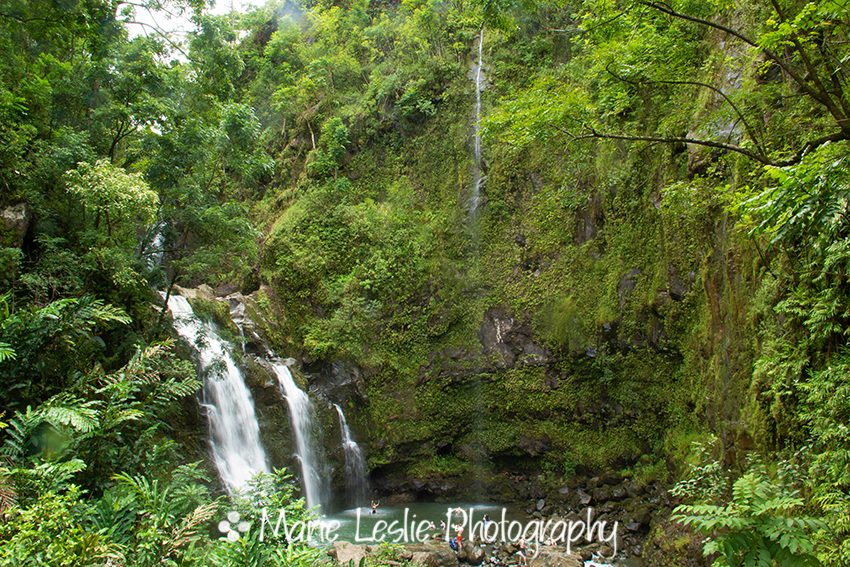 And I had to share this second vertical view so you could see what this entire enchanting waterfall and swimming hole looked like. I'd say this one is a must-stop on the Hana Highway. And don't be like me–be sure to wear your swimsuit. If you look closely, you'll see another fall just above the falls on the left. It's just a tiny peek-a-boo of a higher cascade.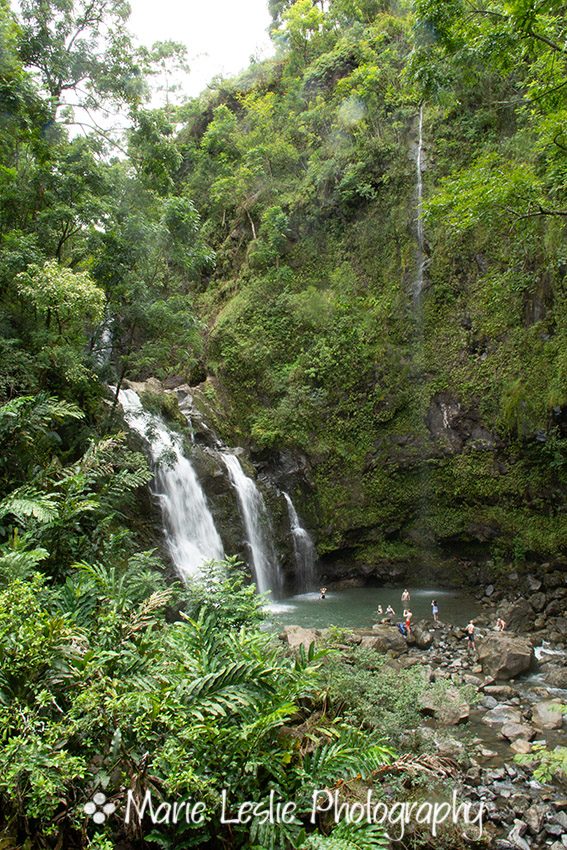 Finally, our last stop was this view of Puohokamoa Falls. These were the only ones we didn't actually hike to. We viewed and photographed these falls from a vantage point at The Garden of Eden. It was an aptly named botanic park with all kinds of stunning Maui flowers and plants, which you'll also see in a future post. Of course, I photographed dozens of exotic and colorful blooms. I love flowers just about as much as I love waterfalls. Unfortunately for me and my camera, it was still pretty rainy when we stopped there, so I didn't get all the photos I wanted. But you can be sure I'll be returning. We're already planning our next trip to the stunning island of Maui and its amazing waterfalls.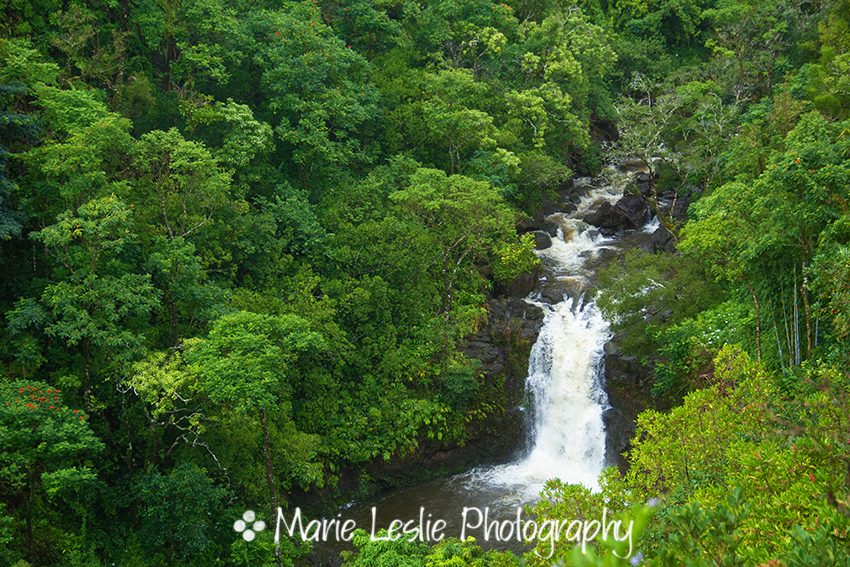 Did you see an image you'd like to have hanging in your home? Check them all–and more–out at Marie Leslie Photography. And have you been to Maui? Which was your favorite waterfall? I'd love to hear–and to hear your recommendations for things to do and see on our next visit. Leave me a comment!