6 Ways to Effectively Use Images on Your Website
Do you use images on your website?
Are you intentional about your image use, or do you just find something that will work for your post?
Did you know that websites with good images get up to 94% more views than sites without?
Using images well should be a critical component of your content marketing strategy. Using images on your website has the potential to increase traffic. It also makes your site more interesting. A boring, all-text website isn't likely to hold visitors' attention for long.
They say a picture is worth a thousand words. Being a professional photographer, I'm inclined to agree. Pictures can convey in a single image a story that may require several paragraphs of text. And combining quality images with your quality text can boost not only readership but conversion.
Website images are a great way to give people information they didn't even realize they were looking for.
So, how can you effectively use images on your website in ways that will give it a boost and not just consume bandwidth?
Six ways to effectively use images on your website to improve traffic, readability, and conversions.
---
Use a Featured Image on Blog Posts And Pages
Every blog post should have a featured image. If your pages are going to be shared they should also have a featured image.
A good featured image draws more attention to your post. It can give a quick snapshot of what the post is about and entice people to click on it and read your post. If you're like most online businesses, you get at least some of your traffic through social media and through topic searches. People are far more likely to click on a link that is accompanied by a good image than on just a link by itself. According to Social Media Today, posts with images get anywhere from 18-98% more interaction than those without.
Show Yourself on Your About Page
Does your website have an About page? Help visitors get to know you and your team with a couple of well-placed photographs. Even online we connect more strongly and quickly with people than we do with businesses. Seeing your smiling face (not an avatar, but a real photograph) helps personalize your site and begins relationship building.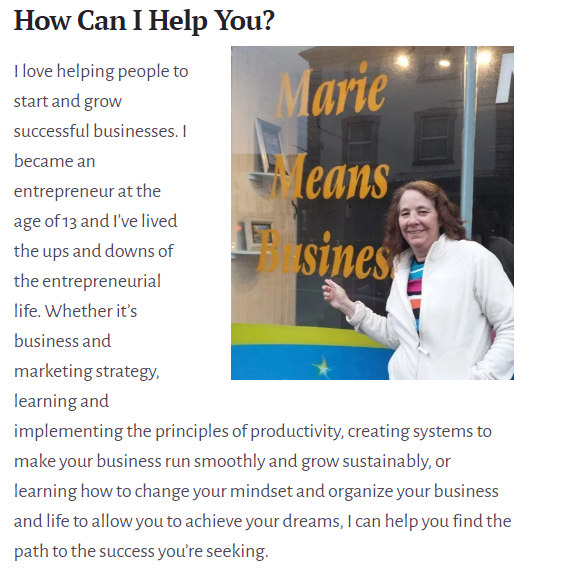 Behind the Scenes
Along with your about image, use images on your website to give readers a peek "behind the scenes." Let them see you in action, running your business to help build that connection and increase interest. Some ideas for behind-the-scenes images are:
Working in your office, store, or workshop
Creating products you sell, including recipes
Interacting with customers
Prepping orders for shipping or delivery
Doing a photo shoot or creating an art piece
Getting ready for a live performance or presentation "backstage"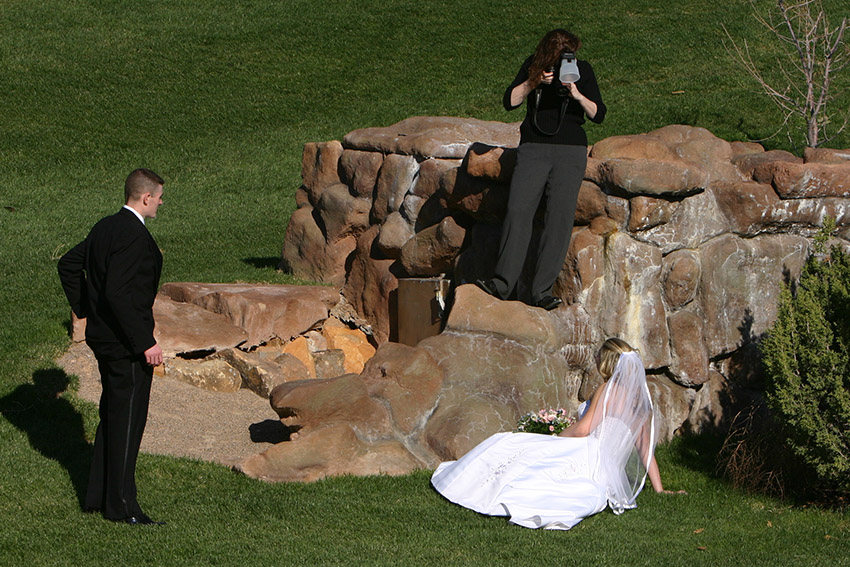 Illustrate a How-to Post
Use images to illustrate a how-to post. This is definitely a case of "a picture is worth a thousand words." When someone sees what you're doing it helps them understand much more quickly than just reading about it. Video can be even more helpful here. Here's an example of an illustrated how-to post.
Include Images with Testimonials
Whenever possible include a photograph of the author when sharing testimonials. We are far more likely to trust a testimonial when it is accompanied by a photograph of the person giving the testimonial. This contributes to the social proof that real people find your product or service of value.
Add Images of Products You Sell—Or "Action" Shots Of Your Services
If you're an online seller, images are critical. More than any other category, you need to use images on your sales pages. Clear, sharp catalog photos so customers can know what to expect when they buy your products are a must. You can also include some lifestyle shots of your products in action to further inspire customers. Seeing people—even people they don't know–use your products contributes to social proof.
If you're selling a service, illustrate your sales pages with action images of you and your team working with customers. You may need to get creative, but creativity is a good thing.
---
These are just a few of the many ways to effectively use images on your website. If you're looking for more ways to use images to build your business, or you need help in knowing how to use them wisely, click here to download my free guide to putting The Power of Pictures to work in your business.
And by the way, if you'd like me to come and speak to your group or organization on effective image use, I am happy to meet with you via Zoom or in-person. Contact me here for more details and to schedule.