Bill Marriott: Success Is Never Final #Review
Bill Marriott: Success Is Never Final Review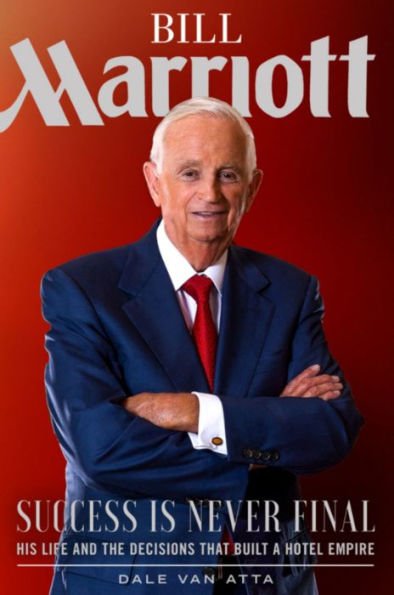 Bill Marriott is arguably the most successful hotelier in the world. The Marriott Corporation, started by his father 1927 with the opening of an A&W Root Beer Stand in Washington, DC, has grown over the years into a worldwide empire of more than 6500 properties.
I love to read biographies. I love to learn what motivates people, what their challenges were and how they overcame them (or didn't). Success is Never Final is probably one of the most comprehensive business biographies I have ever read.
Some of the story was familiar to me as I read a biography of Bill Marriott's father when I was still in high school. This book covers so much more than that. You will learn about both his personal and professional life, and much about the growth and change that has occurred in the Marriott Corporation during Bill Marriott's long tenure.
While there were a few parts that felt slow, this book is a wealth of information and ought to be required reading for any entrepreneur who wants to grow their business, and for anyone in the business world who wants to know how to succeed beyond their wildest expectations while maintaining the highest personal standard of integrity
Bill Marriott: Success Is Never Final Summary
Bill Marriott, son of J. Willard Marriott who opened a root-beer stand that grew into the Hot Shoppes Restaurant chain and evolved into the Marriott hotel company, grew up in the family business. In his more than fifty years at the company s helm, Bill Marriott was the driving force behind growing Marriott into the world's largest global hotel chain. His vision and leadership expanded the family business to more than 6,500 properties across 127 countries and territories.

Success Is Never Final gives readers an intimate portrait of the life of a billionaire and business titan and shares his definition of success. Bill shares details about his very structured childhood including the private struggles with his domineering father s chronic harsh criticism; his time in the United Sates Navy as an officer aboard the U.S.S. Randolph; how he innovated the hotel industry with resort-like facilities; his dogged courtship with Donna, who would eventually say yes to his marriage proposal over a pay phone; and the boundless passion and energy he demonstrated for his work, family, and faith. Bill also shares spiritual experiences that allowed him to recognize God s guidance in his personal life, helping him bounce back from a life-threatening explosion in a freak boating accident which caused severe burns over his body.

Readers will learn the fascinating details about the successes and failures of Bill s business ventures and relate to his challenges of balancing roles as a CEO, a husband and father, and a man of faith. From his half-billion-dollar venture and bet-the-farm move to build the New York Marriott Marquis hotel, to the heartbreaking loss of an adult son whose body slowly degenerated from Mitochondrial Disease, to the billions of dollars donated to medical research, the biography of Bill Marriott tells the remarkable story of a man who had the vision to create a multi-billion dollar business, who understood the power of giving, and lived the creed that hard work will pay off but success is never final.
Buy the Book
This post contains affiliate links, which means I may earn some money if you click on one and make a purchase. It will not cost you any extra, and I will be grateful for your support. Read the full disclosure here.
Bill Marriott: Success Is Never Final–His Life and the Decisions That Built a Hotel Empire by Dale Van Atta is available at Amazon.com in Hardcover, Kindle, and Audio CD editions.
Bill Marriott: Success Is Never Final–His Life and the Decisions That Built a Hotel Empire by Dale Van Atta is available at Deseret Book in hardcover and Audio CD.