"Wizard for Hire" Is an Unusual & Entertaining Adventure
Wizard for Hire Summary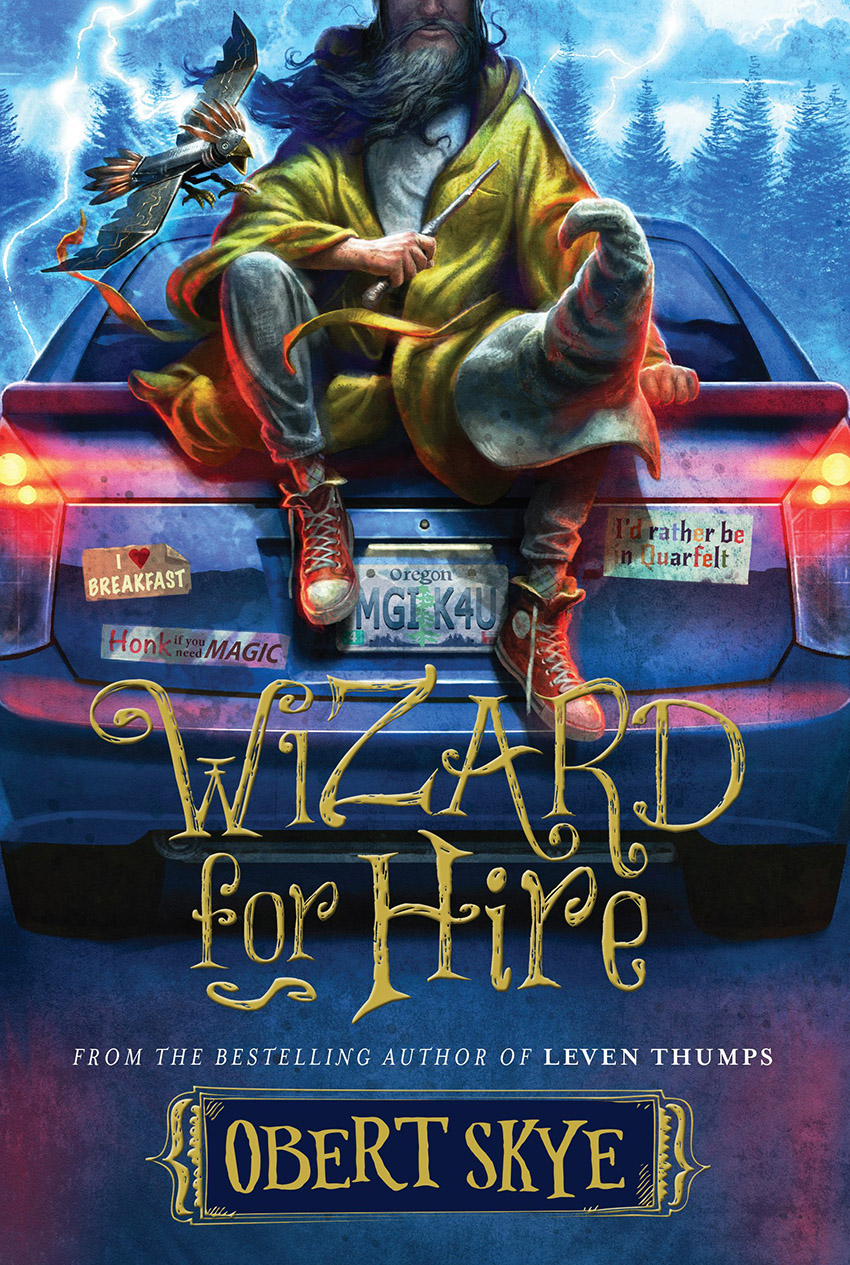 What if there was a wizard in your hometown who offered his services to anyone in need? What if you were scared because your scientist parents had been kidnapped and you couldn't tell the police?
What if you stumbled across a classified ad in your local newspaper that read, "Wizard for Hire. Call 555-SPEL"? Would you call?
Fourteen-year-old Ozzy is desperate to find his parents, but he's not so sure about that ad…. He's read about wizards in books like Harry Potter, but they couldn't actually exist in the world today, could they?
Enter Labyrinth, aka "Rin," who dresses the part. Sort of. His bathrobe and high-top tennis shoes seem unorthodox. At least Rin acts like a wizard, but Ozzy has his doubts. Do real wizards write notes on their shoes and eat breakfast for every meal? Most of all, Ozzy wants to know if Rin can cast any magic spells.
With the help of a robotic-talking raven invented by Ozzy's father, a kind and curious girl at school who decides to help Ozzy, and, of course, a self-proclaimed wizard who may or may not have a magical wand, Ozzy begins an unforgettable quest that will lead him closer to the answers he seeks about his missing parents.
Wizard for Hire Review
You never know when you might run across a wizard—and when you might have need of his services. Wizard for Hire by Obert Skye is a delightful and entertaining mystery/adventure/coming-of-age tale. The main character, Ozzy, has been living alone in a house hidden deep in the coastal Oregon forest since his parents were abducted seven years earlier. As he enters his teenage years, he discovers a nearby town with people and, finding the wizard ad, decides maybe this wizard can help him find his parents.
The story is full of unexpected twists and turns, highlighted by an engaging combination of humor and intrigue. The author creates and describes his characters so well, you would recognize them if you met them on the street. This story is full of plots and subplots, interesting characters and incredible situations, all of which contribute to making it a story that will hold your attention from the beginning to the end.
Wizard for Hire is full of mystery. What happened to Ozzy's parents? What are the tapes that he found? Who is Sigi? Is Rin really a wizard? And the plot twists and turns like a windy mountain road. Just when you think you know where the story is headed, there's another twist. Obert Skye has an amazing imagination that brings his fantastic stories to life and engages his readers.
The anticipation builds as some questions are answered and then replaced by new ones. Unlike many books I have read, I had no idea how this book was going to end until it got there. I even enjoyed their adventures in Albuquerque—and yes, the Frontier really does have the best breakfast burritos in the world.
While Obert Skye's books are probably aimed at middle-grade readers, this one will be entertaining enough to keep older readers engaged (my young adult son just snagged the review copy off my desk), and ideal for family reading time with younger readers.
When my children were small, their Dad read to them every night before bed. I have no doubt this book would have made the bedtime reading list along with such favorites as Harry Potter, Lord of the Rings and Island of the Blue Dolphins.
Wizard for Hire by Obert Skye is available in Kindle, Hardcover and Audio CD. I highly recommend it for the imaginative readers in your life.
A copy of this book was provided to me for review and my opinions are always just mine.

And yes, if you click on these links to buy, you won't pay a penny more, but you'll help fund my reading habit with a small commission from Amazon.