Harriet Beecher Stowe is "All That Makes Life Bright" — Book Review
All That Makes Life Bright Summary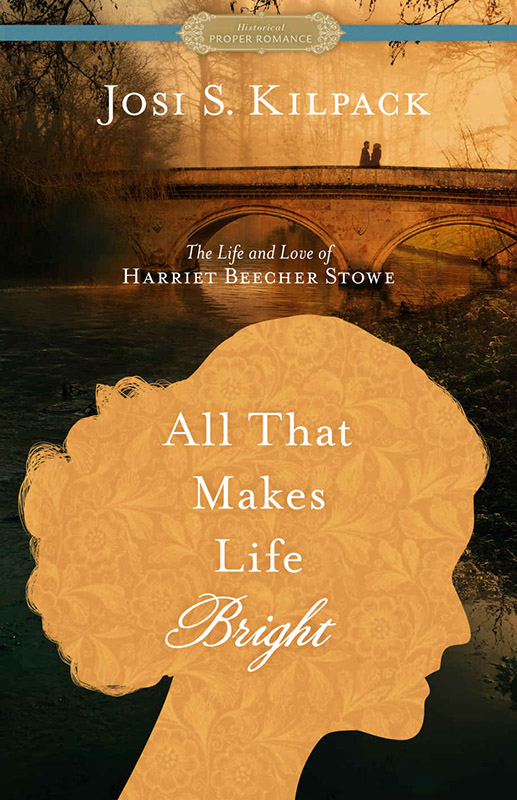 When Harriet Beecher marries Calvin Stowe on January 6, 1836, she is sure her future will be filled with romance, eventually a family, and continued opportunities to develop as a writer. Her husband Calvin is completely supportive and has told her she must be a literary woman. Harriet's sister, Catharine, worries she will lose her identity in marriage, but she is determined to preserve her independent spirit. Deeply religious, she strongly believes God has called her to fulfill the roles of wife and writer and will help her accomplish everything she was born to do.
Two months after her wedding Harriet discovers she is pregnant, just as Calvin prepares to leave for a European business trip. Alone, Harriet is overwhelmed-being a wife has been harder than she thought and being an expectant mother feels like living another woman's life. Knowing that part of Calvin still cherishes the memory of his first wife, Harriet begins to question her place in her husband's heart and yearns for his return; his letters are no substitute for having him home. When Calvin returns, however, nothing seems to have turned out as planned.
Struggling to balance the demands of motherhood with her passion for writing and her desire to be a part of the social change in Ohio, Harriet works to build a life with her beloved Calvin despite differing temperaments and expectations.
Can their love endure, especially after "I do"? Can she recapture the first blush of new love and find the true beauty in her marriage?
All That Makes Life Bright Review
All That Makes Life Bright is Josi S. Kilpack's third installment in her historical romance series focusing on the romances of authors. This book is different in that the author Ms. Kilpack writes about is a woman: Harriet Beecher Stowe.
I particularly enjoyed this book because I knew very little about Harriet Beecher Stowe, and I found her to not only be the influential author I knew, but quite human as well. The story opens on her wedding day to Calvin Stowe. The beginnings of their marriage were not easy, as Harriet adjusted to an early pregnancy and to a husband who needed to be away for much of their first year.
I could sympathize with her struggles to be a "traditional" wife and mother when what she wanted more than anything was to have time to balance in her literary pursuits. To become both a mother and a published author in her time was quite a feat. It is not easy to balance today, but at least today we have options. As Ms. Kilpack said in her introduction, "Harriet accomplished all these things during a time when women could not vote, own land, speak in public, hold political office, or attend college. By the end of this project, I stood in absolute awe of Harriet's accomplishments and had no doubt that Calvin Stowe were her biggest fan as well as a primary reason why was able to have so much influence while still enjoying the blessing of raising her family." As I learned about Harriet, I became awed by all that she overcame and accomplished.
Once again, Ms. Kilpack has brought a character to life, and made her more than just a piece of history. To journey with Harriet through her first years of marriage to widower Calvin Stowe, to the adjustments that both needed to make in their expectations of marriage and family life, and to adapt to Harriet's career as a writer and Calvin's as a professor.
Whether you are a fan of history, and the beginnings of the abolitionist movement, or whether you just enjoy a good clean romance, All That Makes Life Bright is a thoroughly enjoyable read.
Buy the Book
This post contains affiliate links, which means I may earn some money if you click on one and make a purchase. It will not cost you any extra, and I will be grateful for your support. Read the full disclosure here.
You can find All That Makes Life Bright by Josi S. Kilpack in either Kindle, paperback or audiobook through Amazon.com.