See How Organization Improves Productivity with a Home Office Declutter
Do you Need a Home Office Declutter?
Home offices are unique. Unlike a traditional business office most home offices must do at least double duty. These days there are few who work at home who aren't sharing office space with a partner, a spouse, or even children learning remotely. Home offices often become catch-all creativity spaces whether for homework, school work, office work, side hustles, and hobbies.
With the constant use and traffic in your home office, it can be hard to find time for a home office declutter.
This post contains affiliate links, which means I may earn some money if you click on one and make a purchase. It will not cost you any extra, and I will be grateful for your support. Read the full disclosure here.
Clutter Can Increase Stress
While we should expect some degree of messiness, especially in a home office, you don't have to live with clutter.
For many people, too much clutter can be stress-inducing, and can impact productivity. Numerous studies, including this one from The New York Times, and this one from DePaul University, bear that out. Having clutter in your office doesn't mean you're a hoarder, according to the DePaul study. You don't have to adopt a minimalist lifestyle to have an effective home office declutter.
Besides the multi-use factors in a home office, it can be hard to keep it uncluttered because, unlike a traditional office, you are the one responsible for keeping it clean. And juggling that time, on top of everything else can be a challenge. Yes, unless you are fortunate enough to have a housekeeper, you are in charge of maintaining your own space.
In addition to creating stress, clutter can also waste your time. Recent studies show the average worker spends more than 4 hours per week searching for things. That's a half-day lost each week dealing with clutter. I don't know about you, but I'll take a free half-day over hunting through paper piles any time.
Messy Isn't Always Bad
I'll say it straight up. Messy isn't necessarily a bad thing. People with messy desks can sometimes be more creative. One study found people with messy desks were more likely to be non-traditional and more creative. So, if having some things around you help you be creative and productive, maintain your desk accordingly. But when your home office begins to feel closed in, oppressive, or stressful, those can be signs that it's time to moderate the mess.
Consider also a need to store away completed projects or important paperwork and the ability to find needed supplies and documents quickly. And see if scheduling at least a periodic home office declutter can improve your productivity and lighten your mood.
Tips for an Effective Home Office Declutter
Once again, a decluttered home office doesn't mean minimalist, boring or austere. Think about the things that you need to work effectively, and the things that inspire you, lift you up, and bring you joy when you're in your office.
1. Understand Your Why
Before you start, for a successful long-term decluttering, you need to figure out your why. Why is your office space cluttered? Why haven't previous declutterings worked? Are you decluttering and organizing in a way that works for you? Or are you setting up someone else's system in your workspace? Taking the time to answer these questions can help you not only declutter this time, but also develop a clutter-free lifestyle.
Here are some of my most effective tips and tools for creating and maintaining a decluttered home office. And one that is comfortable while inspiring productivity and creativity.
Make sure you have an appropriately-sized waste bin in your office. Make sure it's big enough to hold a week's worth of throwaways, but still small enough that it doesn't become a centerpiece in your space. And empty it at least weekly. More often if needed.
Start your home office declutter by setting aside a couple of hours (or more if it's really crazy) to deep clean your space. Here's how I do a deep clean declutter.
2. Clean Off Everything
Clean off every flat surface in the room. Remove everything that is removable. This includes lamps, books, papers, computer and peripherals (if you can), plants, tchotchkes, everything. This also includes everything on the floor that can be temporarily removed. Ideally, you'll have another room where you can set everything while you clean.
Clean off everything on bulletin boards, magnet boards, and white boards.
Remove everything from display and storage shelves to your staging area in another room.
Wipe down all surfaces with a damp or dust cloth, as appropriate. Sweep or vacuum floors. Wash your windows (outside too, if you can). It's amazing how these simple chores can make a huge difference in how a room feels.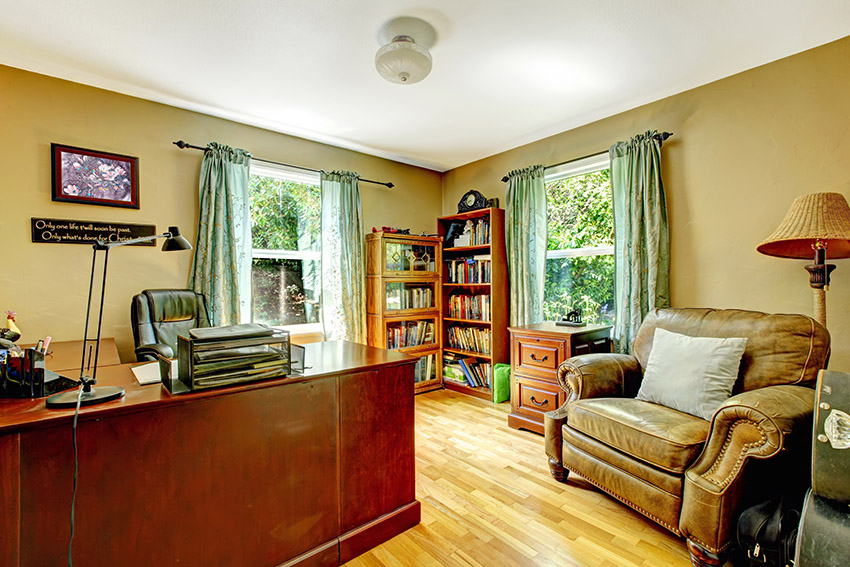 3. Analyze Your Space
Evaluate your home office's current layout. Does it work for you? If not, now is the ideal time to rearrange it and consider if you need additional storage or workspace and what could work there. You can find some of my favorite tools and supplies for an organized home office here.
If you don't have the budget for exactly what you want, create a plan for it. You can often find great deals on furniture, etc., that can be repurposed or refinished at thrift stores, yard sales, or sites like Nextdoor and Facebook Marketplace.
Now, go to your staging area and look at what you've removed. If it doesn't need to go back in to the office, decide what you'll do with it. Toss the trash, and find a home for the rest.
4. Put Your Office Back Together
With only what you want or need in your office left, you can begin deciding where to put everything, and get it all put back together. And remember, you get to change your mind about what goes where, and how your office is laid out at any time. After all, it's your office.
Once you've got your office set up in a way that works for you, schedule time each week for an office tidy. I shouldn't take more than about 30 minutes a week (maybe an hour) to stay on top of the clutter. You may also want to set up a review time about once a month for the first two or three months, where you take a look and make sure everything is still working for you.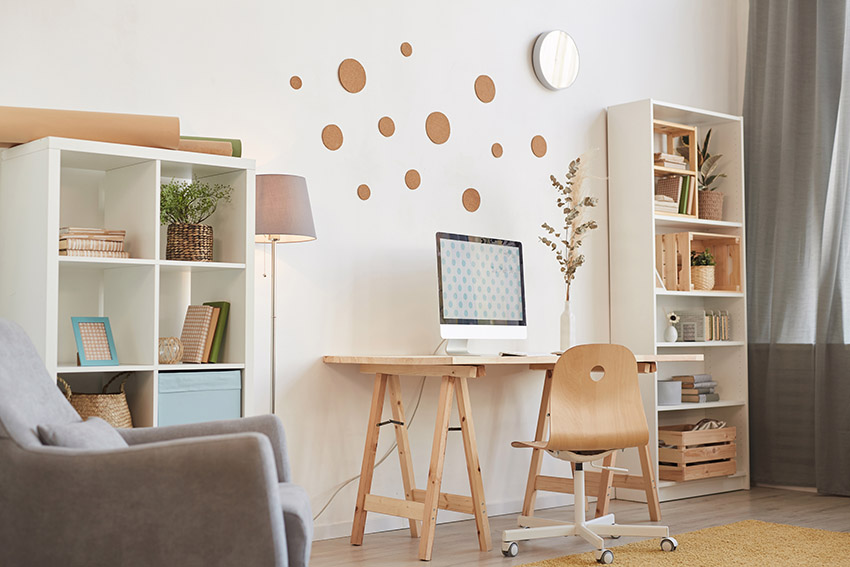 And finally, don't forget to reward yourself for all the hard work.
I'd love to hear how your home office is working for you? Did you get it decluttered? Are you still having some challenges with the space? Share your comments, questions and feedback in the comment section below.