Great Sewing with Vintage Patterns
Today we have a great guest post from sewing whiz and author Susan Denney.  You can find more about here and a link to her web site at the end of this post.
If you have ever wondered whether you should make up one of those cute vintage patterns you see in thrift stores and at garage sales, here's some advice from someone who has been using patterns since 1958 and who has more than a thousand vintage patterns in her attic. That would be me. I have a very understanding husband!
First off, let me say that there is a great advantage in sewing your own clothes. You choose the hem length, the sleeve length and the modesty of the neckline. And second, using vintage patterns can assure that you have clothes that are both stylish and unique. Those of us who have lived through a number of decades know that fashion trends are recycled constantly. Let's see, dropped waist dresses were popular in the 1920s, the 1960s, the 1980s and I'm seeing a lot of them around today. What goes around really does come around.
For beginning vintage pattern users, I'd recommend starting with patterns from the 1950s or later. The 1930s and 1940s patterns are gorgeous, but most have unprinted pattern pieces which are just marked with perforations. Almost all the instructions in 1930s and 1940s patterns assume a lot of knowledge on your part. They're best used by very experienced home sewers. And they can be very expensive.
But patterns from the 1950s, 1960s and 1970s are much easier to use. Here are a few tips:
1950s Patterns
These patterns reflect that Christian Dior "New Look" fashion revolution and often have gorgeous style. But watch out on sizing. You want to choose a pattern based on your bust measurement. A bust 36 was a size 18 back then. No patterns in the 1950s are multi-size so you want to choose the pattern that best matches your figure. If you're petite, you might want to try a half size pattern. These were available in the 1950s, 1960s and 1970s. They were meant for shorter women with more mature figures.
The instructions on 1950s patterns are often complicated, but if you follow them, you can get a really good result. Sometimes you can adapt the 1950s instructions to make them easier. For example, we have sergers today to finish our seams which 1950s seamstresses did not.
Dresses from the 1950s often require a lot of fabric and they often show requirements in 36" and 45" wide fabric only. If you're using wider fabric, you'll have to adapt the layout they recommend.
1960s Patterns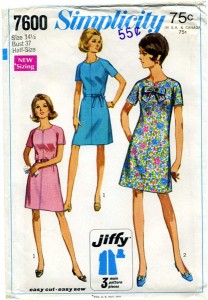 These mod patterns are some of my faves and are much simpler than 1950s styles. But unless you're very short like me, you're going to have to lengthen the skirt. Almost all dresses in the 1960s were worn above the knee.
Patterns from this era have lovely easy-to-read pattern pieces. And the instructions are much simpler than those in the 1950s. My mom and I made up a lot of Simplicity and McCall's patterns in the 1960s with great success.
One of the keys to making a successful 1960s pattern is to pay close attention to fabric choices. We wore a lot of cotton, but we also had fabulous wools and linen fabric to choose from too. Many mod dresses were a-line. They used crisper fabrics or were lined to make that look work.
1970s Patterns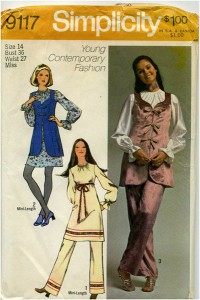 This was a wild fashion era and you may not fall in love with the exaggerated collars, the huge shirt cuffs, the braid trim and the pant leg widths. And few folks still love double knit.
But the boho style of the 1970s with wide skirts and peasant blouses is very hot right now and some of the clothing from the 1970s was more modest than in the 1960s. Although some skirts could still be very short, 1970s patterns began featuring midi and maxi length skirts.
Multisize patterns made their first appearance in the 1970s. If you like working with those, you can find your size more easily in a 1970s pattern. Stretch knits also made it to the home sewing scene in the 1970s so lots of 1970s patterns are designed for knit fabrics.
I hope you'll try one of these vintage goodies out. If you're willing to try but haven't found the perfect vintage pattern yet, they're available lots of places online including eBay, Etsy and in stand-alone online shops. And although 1950s patterns can be pricey, 1960s and 1970s ones are still very reasonable. The Vintage Pattern Wiki at http://vintagepatterns.wikia.com is a great place to find a perfect pattern and the site can help you find a vendor who's offering it in an online shop.
Happy Sewing!
_________________________________________________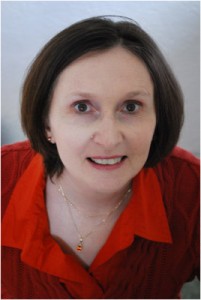 Susan Denney is the author of Snarky and Sweet: A Romantic Comedy about Twins, Texas and a Big Red Diamond which just came out last October. She lives in Pennsylvania with her husband but is truly a Texan at heart. She is presently serving as Relief Society President of her ward.
When she's not writing features for her local newspaper or dreaming up new romantic adventures, she also runs a vintage pattern shop called Coconut Pie. You can find her on the web at www.susandenney.com.