First Day Of Summer On Colorado's Grand Mesa
Last weekend was the official start of summer. Usually that means sunny days and warm temperatures. So we decided to celebrate the start of summer with a getaway to Colorado's Grand Mesa.
We travel through this part of Colorado regularly, passing the Grand Mesa signs and gazing at it wistfully from I-70 as we hurry on our way to somewhere. We last had time to actually drive up on the Grand Mesa itself, more than 20 years ago with my husband's cousin. I don't remember much about the trip other than wanting to spend more time there, because I was concerned with our two very small children, one of whom got carsick in the middle of our outing. This trip was much better.
Grand Mesa is known as the world's largest flat top mountain. The top is dotted with lakes, ponds and reservoirs and is known as a sportsman's paradise. I have a friend who fishes the Grand Mesa every chance he can get. In fact, I believe his last fishing trip ended the day before I arrived for my trip. In the winter, in addition to the Powderhorn Ski Resort, the Mesa is criss-crossed with snowshoe and cross-country ski trails, as well as snowmobile areas. The most popular route is the Grand Mesa Scenic Byway, which is the route we took. Originally, we had marked out a number of side roads and back-country routes, but so many roads were still snowpacked, we needed to stay on the byway. I guess next time I better go a little later in the season.
We stayed in Grand Junction, at the very comfortable Residence Inn. It was a great base for our exploring, and made me wish I had more than a short little weekend to stay.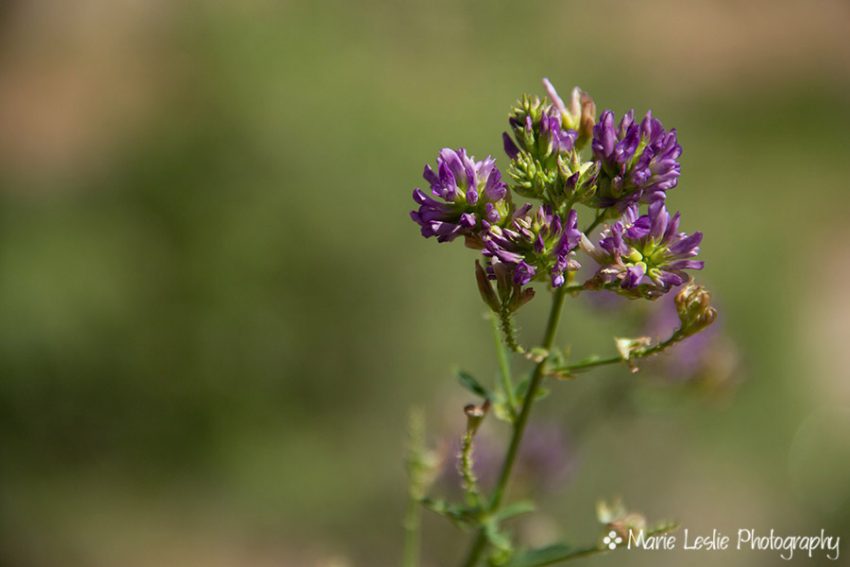 Saturday morning, we headed out to the Grand Mesa, driving up from the I-70 side. It was a beautiful sunny morning as we started out, and we marveled at how high and fast the creeks were running. We've had a long and wet winter in Colorado, so long in fact, that it lasted all they way through the first full day of summer.
As we climbed out of the valley, the views were spectacular. Colorado's Western Slope is a study in contrasts. Lush green forests sit side-by-side with red rocks and mesas. I've driven by these mountains to the north many times, but the view is very different once you can get off the freeway.
Our first stop was this little cascade, tucked away in the corner of a mountainside meadow. I can never resist a waterfall, so of course we had to stop and explore. We came across several recently felled trees along the creek. It was clear we were in beaver territory.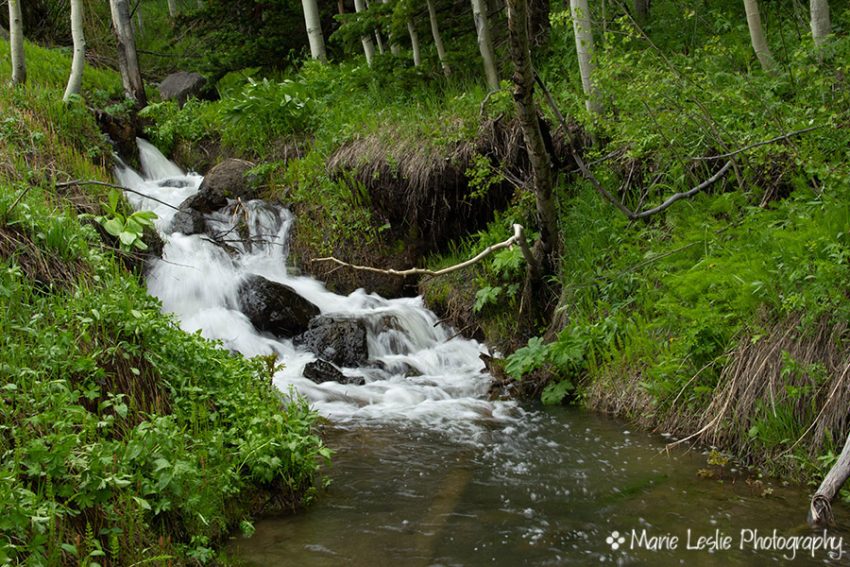 Continuing our climb up the Mesa, we came across this beautiful pond on Mesa Creek, necessitating another photo stop. Since it was created by one of the largest beaver dams I have ever seen, I was hopeful that we would find some beavers. We passesd many ponds and creeks on our outing dotted with dams and lodges, but it must have just been too cold for the beavers to be out and about.
And then it was winter. Just before we reached the top of the Grand Mesa, the snow began. Yes, it was snowing on the first full day of summer in Colorado. Admittedly, we were at 10,384 feet above sea level. I had no idea the Grand Mesa was that high. Just shy of two miles above sea level. We didn't get a lot of snow, but that was ok. The rangers told us it had snowed a foot or more the night before. Apparently, Colorado's high country did not get the message that summer had arrived.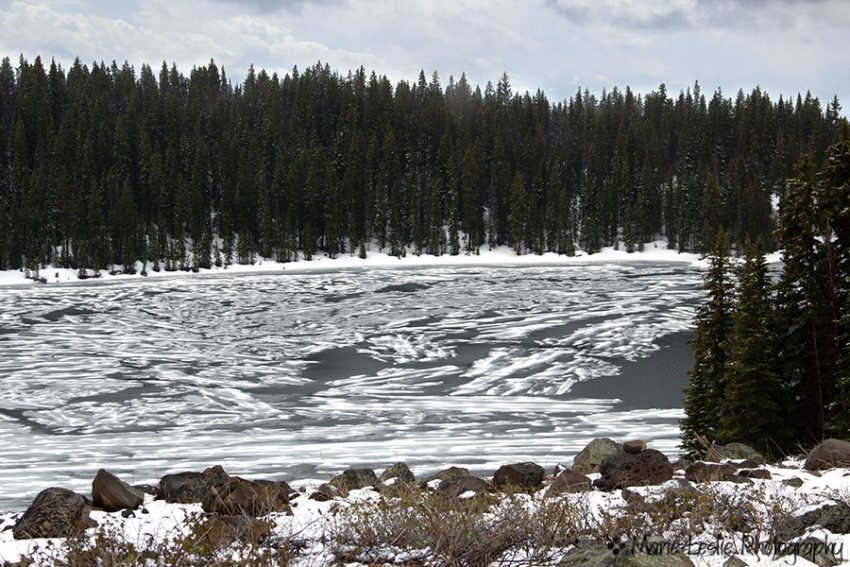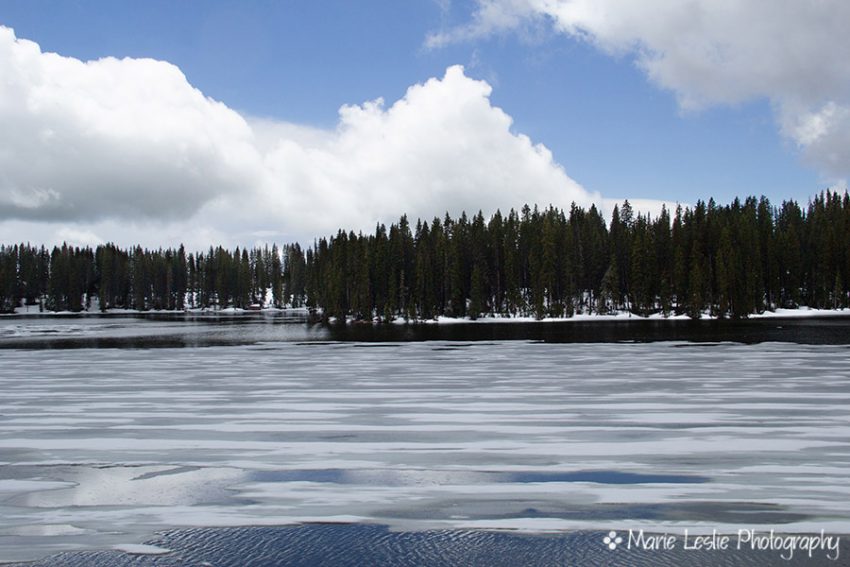 And finally, as we headed down the south side of Grand Mesa, we returned to spring.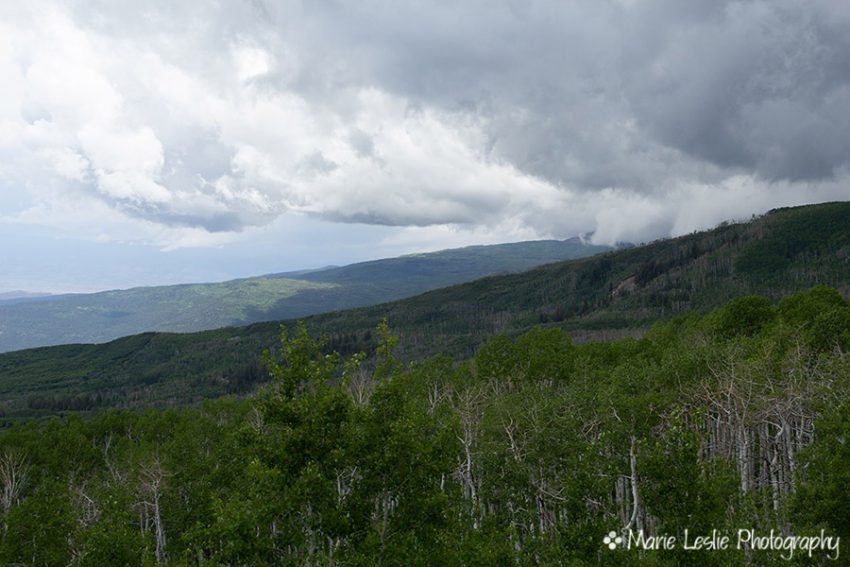 We didn't get to do nearly as much hiking as we hoped to with all the snow and rain (I should have taken my snowshoes–now that would have been something! Snowshoeing on the first day of summer.)
A Sweet Side Trip
But to make up for it, we stopped in Eckert for a visit to Drost's Chocolates. I've followed them on Facebook for a few years. I don't even remember how I found them, but I decided long ago if I was ever in Eckert, Colorado, I would find their little chocolate shop and try them out. I was not disappointed.
Since I am more of a caramel fan than a chocolate fan, of course I bought a sampling of their chocolate-dipped caramels. Hands-down, my favorite is the dark chocolate Hawaiian sea salt caramel. The dark chocolate was just the right shade of dark without being bitter, and melt-in-your-mouth delicious. And the caramel (handmade by the Drost's) was even better. I also had a dark chocolate pecan caramel (aka turtle, but I hear that's a trademarked name). Equally wonderful and delicious.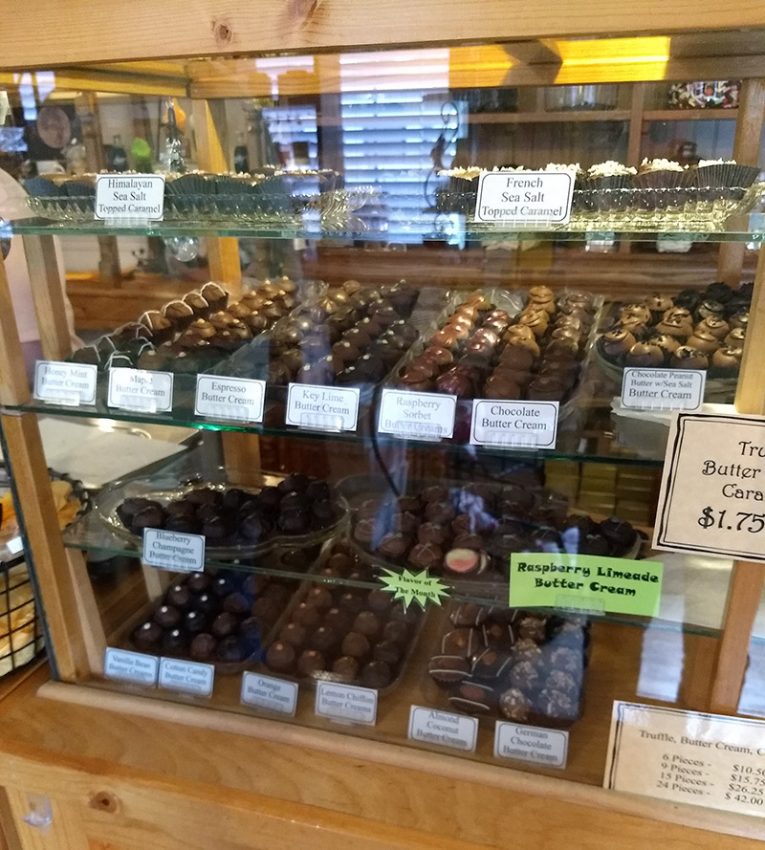 Too bad Eckert is so far away.
We are already planning a return trip to Grand Junction and the Grand Mesa. There are so many other things we want to do there, instead of always rushing through on our way to somewhere else.