Three Ways Speaking Can Help Grow Your Business
Are you feeling stuck in your business marketing?
Are you looking for a way to expand your reach without spending a fortune?
Would you like to attract more potential customers and increase your authority?
If the answer to these questions is yes, you should consider public speaking.
Speaking on topics in your niche, whether to a company's small training group, to a civic organization or at a conference or convention can help you build your business in many ways. Many people shy away from public speaking because it makes them nervous, but growing a business and being an entrepreneur is all about moving out of your comfort zone.
Here are three ways speaking can help grow your business and increase your success.
Speaking Reinforces your Knowledge
"The best way to learn is to teach." -Frank Oppenheimer
When you speak to others about your area of expertise, you solidify that knowledge. Between preparing your presentation and actually delivering it—and then answering questions about it—you will ending up spending time studying and reviewing in a way that will be easier for your listeners to understand. While you are speaking, which is in essence, teaching, you are reminding yourself of important principles in your niche.
Speaking Establishes You as an Authority
People are rarely invited to speak on subjects about which they know nothing. When you present the audience generally presumes that you know what you are talking about. They accept you as an authority on the subject. Each speaking engagement reinforces your status as an authority in your field. And this can lead to more opportunities and more people trusting you as the authority.
When a potential client is looking for someone to do business with in your field, they'll be turning to people they perceive as authorities. Shouldn't that be you?
Offering your expertise and establishing that you are the authority in your niche is just one of the many ways speaking can help you grow your business. Don't miss out on one of the most affordable ways to market and build your business by skipping an opportunity to speak.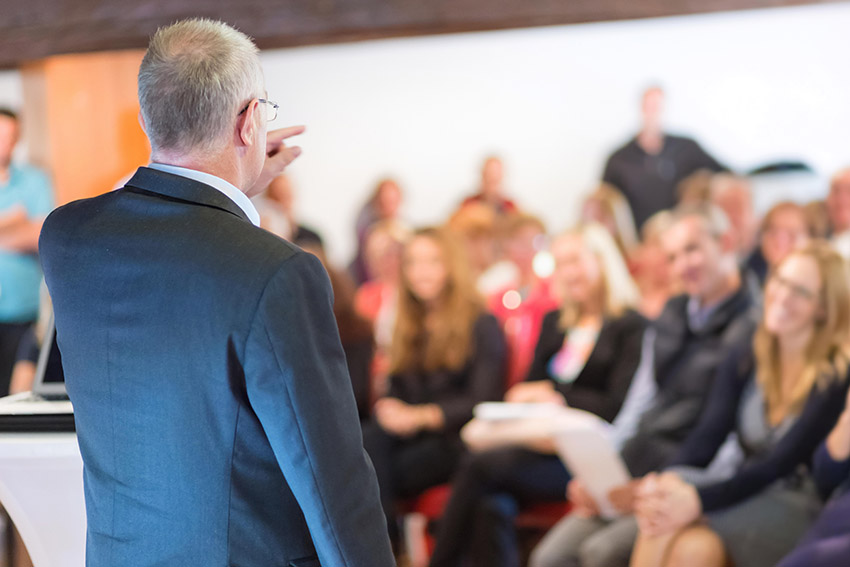 Speaking Exposes You to New Clients
When you have an opportunity to speak, it is likely that many in your audience may not already be familiar with you and your business. Speaking is a great opportunity to introduce yourself to possible new clients and gain business. In addition to speaking plan to spend as much time as possible getting to know your audience before and after your event.
Whenever possible, especially if you are speaking for free, request a list of attendees and their contact information as part of your speaking agreement. In addition to in-person networking at the event, this allows you to follow up with those who may be interested in your services. Make it a point to leave your audience with your contact information.
If you have not yet taken advantage of the potential speaking has to grow your business, you are missing out on a great opportunity. To find public speaking opportunities near you, contact your local Chambers of Commerce, networking groups or civic groups. Once you get started, you'll find many more opportunities coming your way. For more help in getting started, check out these tips from Score.
Have you done any speaking for your business? How has it worked for you? What other benefits have you found from speaking? I would love to hear your thoughts in the comment section below. Need some help getting started? Let's talk–message me here.