Creative Kids' Room Storage Solutions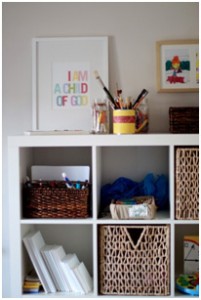 Finding creative solutions to kids' room storage problems is a fabulous fit on Modern Molly Mormon. Why? Mormon women consistently seek solutions to problems and generally have plenty of kidstuff to store. In the back of your mind is the wonderful commandment which you don't take lightly:
"Organize yourselves; prepare every needful thing; and establish a house, even a house of…order…." (D&C 88:119)
Creativity abounds with Mormon women (hence the title "Molly"!) so I know showing a few photos of creative ideas will get your wheels spinning in your quest to have a house of order with a big family, small spaces, and tight budget, but first, two rules: function first, style second.
Function First
It doesn't matter how good storage looks if it doesn't function. Containers should be durable, sturdy, and kid-friendly. Part of providing functional storage is for kids to learn organization, responsibility, and independence, which is much easier if they can operate storage containers by themselves.
Style Second
Style, pattern, and color are matters of personal taste when choosing storage containers but who says kids' room storage has to be covered with teddy bear pictures or shaped like a castle? Not all kids' storage has to come from the kids' department.
Here are a few creative ideas for you:
| | |
| --- | --- |
|   |  Cloth bags held open with embroidery hoops hang from a curtain rod…easy access and a great storage idea for small items. |
|   |    Wall mounted clothes tree has plenty of branches for hanging coats, scarves, and hats. Make it sturdy and secure for rough handling. I love the tot-sized tree for little ones who follow siblings example. |
|   |   Wooden dividers keep clothing stacks neatly separated. Works well for tweens and teens. Now to get the kids to fold their clothes! |
|   |   Legos are a kid favorite. Display their creations for a time with a Lego plate attached to a shelf. Double duty—attach hooks below for clothing storage. |
|   |  Take an ordinary box and transform into hidden storage. Good recycling of damaged books missing pages but cover still intact. |
Now, take these creative ideas and get to work on your kids' rooms….and be sure to share your success with everyone here!
(See our posts on KidSpace Stuff Blog for more creative storage ideas.)
Watch for next month's post: Baby's Nursery – A Haven of Peace
=====================

Jeanette Simpson, ASID is an Interior Designer and owner of KidSpace Interiors where she specializes in commercial and residential design of children's spaces. A graduate of Brigham Young University, an author, and furniture designer, Jeanette is mother of six, stepmother of five, and grandmother of 17. Read more of her articles on her KidSpace Stuff blog.