4 Ways to Get Organized for the Holidays
Do you feel like the holiday season is a slope that you can't stop yourself from sliding down? Once it's here, it comes in full force, and there is no stopping it. It's never too early to start planning everything that goes into the holidays. Getting prepared for this time of the year is helpful, no matter what.
There are many ways to get organized for the holidays and here are some that are sure to be valuable for you this year and every year!
Make Lists & Prioritize
One of the best ways to accomplish the things you want to get done is to make lists. Being able to visualize everything you want to complete, organize it all in one place, and then cross it off is such a great feeling! Making lists for the holidays is something that can be done as early as September. If you are having a holiday party and know everyone you need to invite, write it down. Many things that can be organized into lists are people you wish to buy a gift for, food you will need to buy, baking supplies, Christmas decor you're missing, and anything else that will help smooth the holiday preparation this season.
Get Ahead on Christmas Decor
There are plenty of ways to start decorating early. This might throw you off if all you are thinking about is the traditional bright red and green tinsel garland that you lace your tree with. You can stop right there because there are so many options that you can decorate with that can even go out before Thanksgiving! Christmas decorations add such a joyous feel to the home, providing warmth and love. Why not have that feeling sooner than later?
First, a theme needs to be picked. If you plan to go the traditional route with all red and green, then most of your stuff will probably have to wait. However, say you are open to decor that's white or gold, these are decor options that could go out early. For example, pick a wreath that could be hung for Thanksgiving and stay up through Christmas. Maybe a traditional green one with white and gold poinsettias and pine cones. This will add a fall feel, and still be relevant through Christmas. Another aspect of decorating that can be done early is hanging Christmas lights outside. Doing this in November saves you time in December with one less thing to do. When it comes to your interior, you don't have to decorate if you don't want to, but getting a head start will only give you more time to sit back and enjoy the holiday season!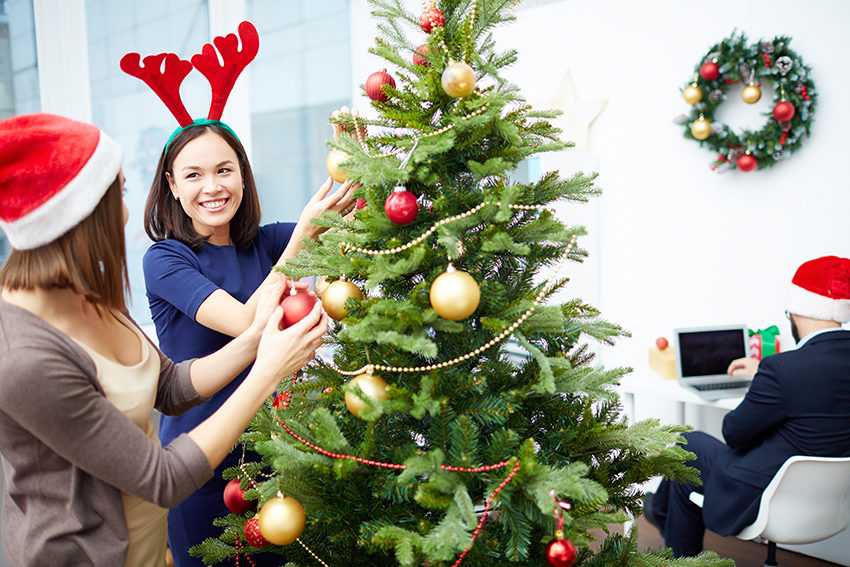 Controlled Gift Giving
We all have a mental list of the people we want to get a gift for. There is nothing better than seeing the look on someone's face when unwrapping the perfect gift. First, turn your mental list into a physical list. Being able to see your expectations down on paper will allow you to see if the number of people you wish to give to is reasonable or not. Once you have a solid list of people you wish to give a gift to, start to make another list of the items you want to buy them, too. When you have an idea of what to get start the buying process early! When you are out casually shopping, have that list with you and chip away at it as much as you can. The earlier you buy, the earlier you are done with this task of your Christmas to-do list.
If you think your level of Christmas gift-giving is too much for you, there are several things you can do to decrease spending. One option is thinking about who you buy for and why. Are you even going to see this person from now until Christmas? If not, think about taking them off of your list. If they are someone you aren't going to see but they are very close to you, know that you should just ship this present out so it isn't lingering at the house for weeks and weeks.
And If you have a big Christmas party/get-together with a group of friends or family, maybe suggest that the gift-giving be Secret Santa style. Everyone draws names and only buys a gift for whom they pick. Instead of buying for all of your loved ones, you buy for one, and everyone still gets together to enjoy each other's company.
Prioritize Christmas Traditions
During the holidays, everyone is busy with the traditions that fill our calendars each year. It's easy to get swamped in your normal day-to-day with all of these added tasks. Foremost, be easy on yourself. If you are behind on your wrapping, set up a specific time to get it all done and hold yourself accountable. When you organize how to spend your time, you won't have to miss out on things and you'll be able to get everything done and enjoy each holiday event. Making time to enjoy your holidays should be your main priority.
If you're looking forward to that holiday party that you host each year for friends and family, plan ahead! The sooner you start thinking about the things that need to be done, the quicker you can appreciate what matters during this time of year, as well as, focusing on what you need the most at that point in time. Again, start your party planning by making lists, and everything will fall into place as you chip away at each task one by one.
When all is done, your home will be decked, everything will be as you planned, and your friends and family will be happy in your company. However, remember that if something didn't go as planned that it is fine, too. You are still right where you want to be with your loved ones for the holidays.