2 Quick Steps to Increase Productivity Now!
Would you like to painlessly boost your productivity today? Here are two simple ways to improve your productivity, save you time and give you a little clarity.
1. Clean off the top of your desk or workstation.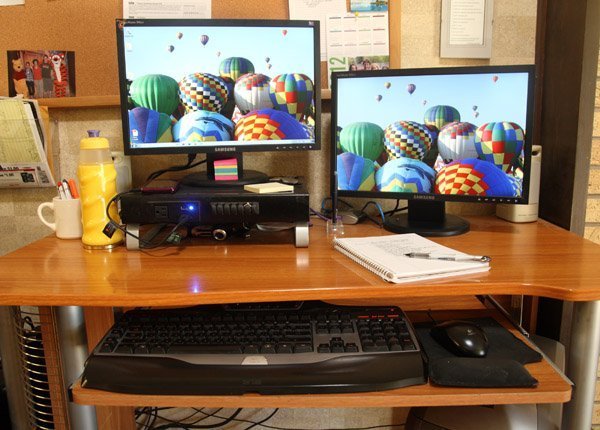 Really. Remove everything from the top of your desk. Leave the computer monitor and the phone. You don't need to mess with those—that will make more work. But everything else needs to go. No matter how critical you think it is to your work life, take it off your desk.
Dust your desktop and your monitors and clean the phone. Wipe the phone down with an alcohol wipe; get all the grime and dirt and germs off it. Once you've done that, look at all the stuff you took off the desk. Yes, the piles, the pens, the sticky notes, the business cards, the mail, etc., etc. Give it a quick sort and figure out what you really need.
For me, critical desk items would be my pen cup (empty out all but your favorite and most-used implements here—the spare pens can go somewhere else), my notepad, my timer (find out why here), my sticky notes and my water bottle. That's it.
I really don't need the canned air, yesterday's mail, the memory cards that need reformatting or the Chinese Fortune Sticks. Are those stress balls and Kid Meal toys really helping you get more done? If not (and you know the answer is no), find them a new home.
Now, doesn't that look better? Doesn't that feel better? Do this at least once a week and you'll find that you are working better and thinking more clearly.
2. Clean out the drawers.
Confession: I have computer desk; it has no drawers (yes, that is my desk in the picture and all the workspace I have). That's one of the reasons my desk top gets messy. What I do have is a set of rolling drawers that sits next to my desk, but it's just out of reach. Since I don't have a dedicated office where I can keep everything, most of my office supplies live in the basement store room so the drawers have become my portable office for things I need on a regular basis.
When I am tidying up in a hurry, or when my kids don't want to take something back to the basement, it gets stuffed in my drawers. As a result, they end up cluttered and messy and full of stuff I don't need. Giving the drawers a quick clean out can produce some amazing finds.
Let's do this one drawer at a time. Open the drawer, take EVERYTHING out of it and wipe down the inside. Turn it upside down over the wastebasket if you need to and get all the little cruddy stuff out. Look at the contents you have taken out and decide what really needs to be there. If it isn't something you use regularly in your work, consider finding it a new home.
Yesterday my desk gave up two tape measures, a flashlight, an empty tape dispenser, some colored pencils, a compass (the math kind, not the Boy Scout kind), three checkbook covers and some other junk. It may not seem like a lot, but my drawers aren't very big. If you have larger drawers, put a drawer organizer on your shopping list. My favorite—especially for the pencil drawer—is a silverware divider. They are just the right size for most desk drawers and the perfect for sorting writing implements.
Take a look at what you got from the desktop and the drawers. Throw away the trash and the broken stuff and then get rid of everything that isn't helping you be more productive. Your kids' art supplies and homework tools can go into a labeled bin in the closet that they can access when they need it. Receipts and other forms should be filed in your file box or cabinet.
If you keep in or on your workspace only what you currently need, you'll find your workday going more smoothly, you won't waste time trying to find things, your productivity will go up and your stress level will go down.
What's your biggest productivity challenge or your best tip?
Please share your thoughts in the comment section below and let's all get more successful together.